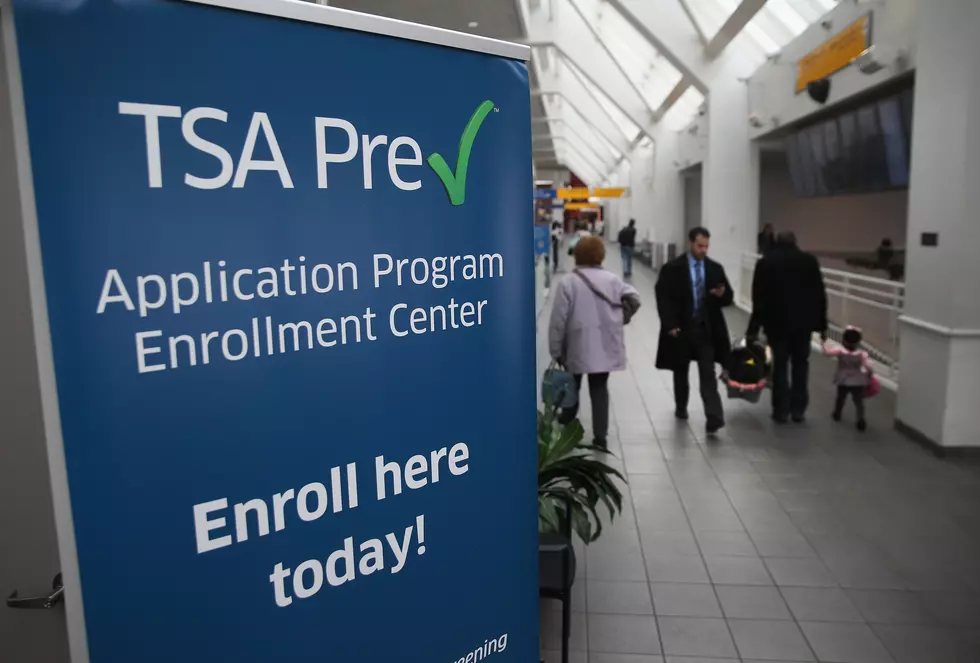 No TSA Pre-Check? Westchester NY Airport Will Help You Get it
Getty Images
Have you flown recently? Was it a drama filled adventure, complete with taking your shoes off, your belt, practically undressing so you could get through the TSA check point without setting any alarms off? There is a way around some of this travel drama, you could get TSA Pre-check.
Heard about it, but you haven't gone ahead and filled out the paperwork and paid the fee? If you fly at least one time per year, trust me, it is totally worth it. How can you easily get TSA Pre-Check? There is a special multi-day event coming up at the Westchester County NY Airport, here's the details.
What is TSA Pre-check?
TSA Pre-check is a special pre-flight screening process that you have gone through before you fly that potentially will help you save time and frustration when you are going through airport screening. With TSA Pre-check, you will not have to remove your 3-1-1 liquids from your bag, you also won't have to remove your belt or your shoes. Here's a few more reasons why you should just get the precheck. 
How can you get TSA Pre-check? Is it expensive?
Is it expensive? How valuable is your time while going through the airport? I personally have TSA Pre-check and I will never let that thing expire. I have arrived to airports where the non-precheck lines were a delay of about an hour, and I sailed right passed all of them, and was able to get a coffee and wait (relaxed) at the gate for my plane.
There are many ways to get TSA Pre-check, one of the easiest is to attend one of the Precheck events, like the one that will be held at the Westchester County NY (White Plains) airport on September 18 through 22, 2023. To register for the event you will need to fill out the online form, and schedule an appointment. Each appointment is expected to be about 10 minutes long.  Do you have to make an appointment? No, but those with an appointment will receive priority.
5 Travel Must Haves For Your Trip
Top 10 Hotel Room Hacks For When Traveling With Toddlers
Here are the best ways to survive your hotel stay with little kids!
How to Travel All Around the World Without Leaving Upstate New York
There is an unusually high number of Upstate New York communities which carry the same name as international cities and countries. Some Upstate towns were named so in honor of that faraway place. Other naming seems rather random at best. So settle in and take a trip to Cuba, Amsterdam, Rome, Cambridge, Mexico, Warsaw and other places without even leaving Upstate New York. Kind of.
We know there are many more than the 18 on this list, so let us hear from you!