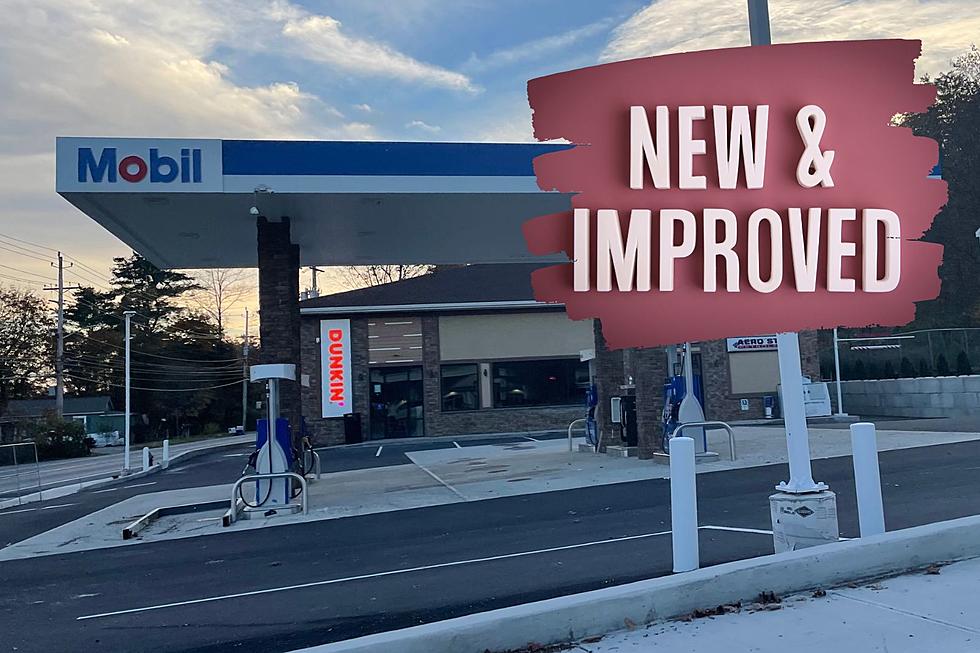 Sullivan County, NY Gas Station Gets Major Facelift
Allison Kay, Canva
A Sullivan County, NY town has been experiencing positive changes. This popular area is the home to many locally owned businesses, each one bringing something different to Sullivan County, NY.
Wurtsboro, NY is a village located in Sullivan County, NY. It's filled with small businesses, friendly locals and plenty of places to explore.
Crystal Connection, Canal Towne Emporium, Custer's Last Stand and other businesses are staples within the community.
Did You See What's New In Sullivan County, NY?
Crystal Connection is a staple in Sullivan County, NY.
It's known for being,
"One of the largest Crystal & Mineral destinations on the Northeast." 
Crystal Connection is truly a crystal lover's dream come true. Located in a 1890s antique, Methodist church located in Sullivan County, NY, there's so much charm and personality that lies within,
While this may be a place where some people gather often, others can refer to it as a hidden gem in the Hudson Valley. Personally, I love visiting this space and learning about new events and activities that they have going on.
Crystal Connection now has an underground salt cave. Those who visit can experience Halotherapy at Crystal Connection's new salt experience.
Along with Crystal Connection's new addition, right down the road locals can get excited about a facelift happening.
Sullivan County, NY Gas Station Gets Major Facelift
We all have our designated and favorite locations to visit in the Hudson Valley. This may entail our favorite restaurant, bakery, walking trail and even convenience store and gas station.
Sullivan County, NY restaurant can get excited about the changes being made to a local gas station that needed a well-deserved, major facelift.
Wurtsboro, NY Can Now Experience A Renovated Gas Station
As far back as we can remember, this gas station was a convenient stop for gas, food and more. Located across from Stewart's, some local residents felt that they may have been competition for one another. However, Stewart's and Mobil bring different options to the Hudson Valley community.
Take A Look At The Changes Happening In Wurtsboro, NY
The Mobil gas station is located on Kingston Avenue Wurtsboro, NY. Changes have been taking place at this location for quite some time.
This new and improved gas station will have a Dunkin location and it appears to look cleaner.
Hudson Valley residents shared their experiences on Google about Wurtboro's Mobil gas station.
One year ago, a Google user shared,
"Pumps are not working correctly. Even though I pushed the button for 89 grade fuel, it only wanted to give me Diesel. Time before gas leaked out on my clothes. I have been pumping my own gas for over 30 yrs. Without problems. Never have receipts at the pump when they do work. Left and went to Stewarts"
Two years ago, a Google user shared,
"Jay keeps a clean store, he is always cleaning and is an on-site owner. Makes the best coffee in town. Store has a little bit of everything, stocked well. Local loyalty is also noticed at his store with many customers on a first name basis."
Additional Google users shared mixed reviews about this gas station in the past. 
We look forward to reading positive reviews about Wurtsboro, NY's renovated gas station and hope to visit here for our needs.
Mobil
155 Kingston Ave, Wurtsboro, NY
Do you know of a Hudson Valley business that is redoing their business or one that needs a facelift? Share with us below.
Take a Tour of Sullivan County, NY's Newest Underground Salt Cave
Crystal Connection is a 1890's antique, Methodist church located in Sullivan County, NY. This is a crystal lover's dream come true.
It's known for being
"One of the largest Crystal & Mineral destinations on the Northeast."
While this may be a place that some people gather often, others can refer to it as a hidden gem in the Hudson Valley. Crystal Connection can also be described as
"a sacred space & crystal haven"
I have never experienced anything similar to Crystal Connection before. The amount of crystals, crystal jewelry, singing bowls, sage and more are fascinating. Crystal Connection also hosts different events and fairs throughout the year.
Take a tour through Crystal Connection's newest underground salt cave experience.
Gallery Credit: Allison Kay, Crystal Connection, YouTube
Sneak Peek at Highly Anticipated Hudson Valley Museum
A New Museum Will Open In The Catskills Featuring Hollywood's Biggest Stars
The Borscht Belt Museum will open in Ulster County,NY. This allows for the history of the Borscht Belt to carry on in the Hudson Valley.
While celebrities in the past visited the Borscht Belt region, there will be more involved in the community when this museum opens in 2025.
Fran Drescher And Fellow Celebrities Will Sit On A Hudson Valley Museum Board
Fran Drescher is a celebrity that almost everyone likes. Known for her role as Fran Fine in The Nanny, the world couldn't help but laugh at her jokes, statements, and relatable interactions with other members of the show.
Fran Drescher isn't the only celebrity who will be in the Catskills.
"The museum's list of advisory board members includes Fran Drescher, Harvey Fierstein, Judd Hirsch, Robert Klein and Richard Lewis — a fitting cast for a place where some of the nation's top comedians got their start."
Have You Ever Heard Of The Borscht Belt?
"For generations of Jews in the New York metropolitan area, there was no doubt about the location of those "mountains." Less than 100 miles from the cramped, sweltering tenements of Manhattan's Lower East Side was a lush patchwork of forests, farms and bustling rural towns that hosted a summertime population of nearly a million urban strivers hungry for the clean air, fresh food and familiar camaraderie that even a garment worker or cab driver could afford."
Spending the summer in the Catskills sounds ideal.
"From the turn of the 20th century to the 1970s, more than 1,000 hotels, bungalow colonies, summer camps and boarding houses dotted the Catskill Mountains of southern New York. At first they came by train, and later, by bus and car along The Quickway, now known as Route 17."
Some may know this area or region to be called Solomon County, Jewish Alps or The Mountains. The Borscht Belt was also another term that most people remember the most.
How Can You Visit The Borscht Belt Museum In Ellenville, NY?
I took a day trip to the Borscht Belt Museum in Ellenville, NY. Upon arrival, I was greeted by a humorous sign stating "Come in and schmooze, free admission".
When I entered the museum, I was greeted by a volunteer. I was able to walk around and see memorabilia from the different resorts of the Borscht Belt region and community.
I was also told that this museum is a pop up for now, they will continue to change the set up as well. 2025 marks the year that the Borscht Belt Museum will officially open.
Gallery Credit: Allison Kay