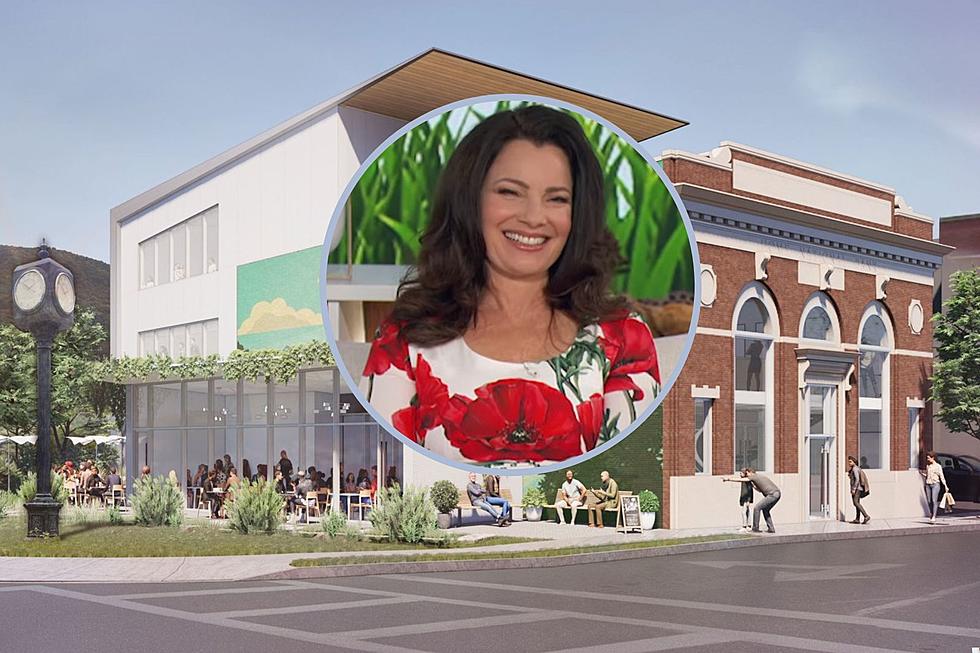 Fran Drescher and Fellow Celebrities to Sit on Hudson Valley Museum Board
Canva, The Borscht Belt Museum, Instagram, YouTube, The Talk
The Hudson Valley is about to experience the best summer yet. With new businesses opening, and outdoor activities resuming, we have a lot to look forward to.
Fairs, festivals and live music will soon be starting up again along with outdoor concerts at some of our favorite venues. 
The Hudson Valley has become an increasingly popular area visited by not only out-of-town residents but celebrities as well.
The Hudson Valley Is A Place Where Celebrities Visit
Over the past couple of years, some of Hollywood's biggest stars have made a trip or two to the Hudson Valley. Post Malone, Flo Rida, Woody Harrelson, Ben Stiller, and more have shown their love for our area.
Celebrities such as Kelsey Grammer, Paul Rudd, and Hilarie Burton not only own businesses in and around the Hudson Valley but it's been rumored that they live within these beautiful counties. 
More Celebrities Will Be Spending Time In The Hudson Valley This Summer
I had the opportunity to see Adam Sandler and Rob Schneider perform at Bethel Woods one summer and it's a night that ill always remember.
Rob Schneider will be performing in the Hudson Valley this year and I would recommend seeing him in person to anyone.
Along with Rob Schneider, there will be other celebrities that will be visiting the Hudson Valley this summer. With the opening of a new museum in the Catskills, it will not only draw in locals, out of town residents but some of Hollywood's biggest stars as well.
A New Museum Will Open In The Catskills Featuring Hollywood's Biggest Stars
More than ever, Hudson Valley residents may run into a celebrity or two the next time that they're out. It could be that they are visiting the area, live here or are checking in on their business. Perhaps, a new museum has opened and they play a role in how it's run.
Fran Drescher And Fellow Celebrities Will Sit On A Hudson Valley Museum Board
Fran Drescher is a celebrity that almost everyone likes. Known for her role as Fran Fine in The Nanny, the world couldn't help but laugh at her jokes, statements, and relatable interactions with other members of the show.
According to Yahoo News,
Fran Drescher isn't the only celebrity who will be in the Catskills.
"The museum's list of advisory board members includes Fran Drescher, Harvey Fierstein, Judd Hirsch, Robert Klein and Richard Lewis — a fitting cast for a place where some of the nation's top comedians got their start."

 
What New Museum Will Celebrities Be Involved In While In The Hudson Valley?
Have you ever heard of the Borscht Belt?
According to Borscht Belt Museum.org,
"For generations of Jews in the New York metropolitan area, there was no doubt about the location of those "mountains." Less than 100 miles from the cramped, sweltering tenements of Manhattan's Lower East Side was a lush patchwork of forests, farms and bustling rural towns that hosted a summertime population of nearly a million urban strivers hungry for the clean air, fresh food and familiar camaraderie that even a garment worker or cab driver could afford."
Spending the summer in the Catskills sounds ideal.
"From the turn of the 20th century to the 1970s, more than 1,000 hotels, bungalow colonies, summer camps and boarding houses dotted the Catskill Mountains of southern New York. At first they came by train, and later, by bus and car along The Quickway, now known as Route 17."
Some may know this area or region to be called Solomon County, Jewish Alps or The Mountains. The Borscht Belt was also another term that most people remember the most.
It's so fascinating to learn about how this area turned into resorts, bungalows and hotels that were all-inclusive and created a place where people could enjoy time together including pools, nightclubs and more.
The History Of The Borscht Belt Carries On In The Hudson Valley
According to Borscht Belt Museum.org, 
"The Borscht Belt had become a key way station on the American pop culture circuit, often uttered in the same breath as Broadway and Las Vegas. Name an American comedian of the previous century and they invariably cut their teeth in front of a tough Catskill audience, among them Woody Allen, Jerry Seinfeld, Sid Caesar, Joan Rivers and Jackie Mason."

 

"In fact, the edgy, in-your-face brand of stand-up familiar to anyone who watches "Comedy Central" or "Saturday Night Live" is a legacy of the Borscht Belt, where ribald audience interaction and raw self-deprecation drew the biggest laughs."
This area in the Catskills quickly became an area where everyone wanted to be a part of.
"Jews were not the only marginalized group to find refuge in the Catskills. Irish and Italian-Americans built resorts to welcome their own. Peg Leg Bates Country Club and Utopia Lodge catered to African-Americans. Casa Susanna offered a safe space for LGBTQ people where they could escape fear and persecution."'

 
What Happened To The Borscht Belt Community?
As time went on, some of the once-used hotels became empty. The tradition didn't carry down to the generation which made it hard to keep up with the once-popular resorts.
Thankfully in 2023, the Catskills Borscht Belt Museum will come to life.
The building in the museum is historic and has a story to tell of its own. The Borscht Belt Museum was built in the 1920s as a bank. It's interesting to think about how it played such a large role in so many lives of those who enjoyed staying there later in time.
There will be interactive activities, workshops, lectures, film series and more available at the Borscht Belt Museum.
Will You Be Attending The Borscht Belt Fest This Summer?
According to Borscht Belt Museum.org,
The Borscht Belt Fest will take place on July 29, 2023 in Ellenville, NY. This is known for being an annual event that highlights the never forgotten Borscht Belt time and era.

 

"The Catskills Borscht Belt Museum is reviving that magical era with a festival that celebrates the Borscht Belt's unique blend of humor, culture, and cuisine."
There will be stand up comedians, live music, educational programming and more. 
Will you be going to this festival and or visiting the museum? Share with us below.
Celebrities You Might Run Into In Upstate New York...Because They Live Here
8 Celebrities That Once Lived in Marbletown, New Yok
These 8 celebrities once called the small Ulster County town of Marbletown, NY (including Stone Ridge) home.