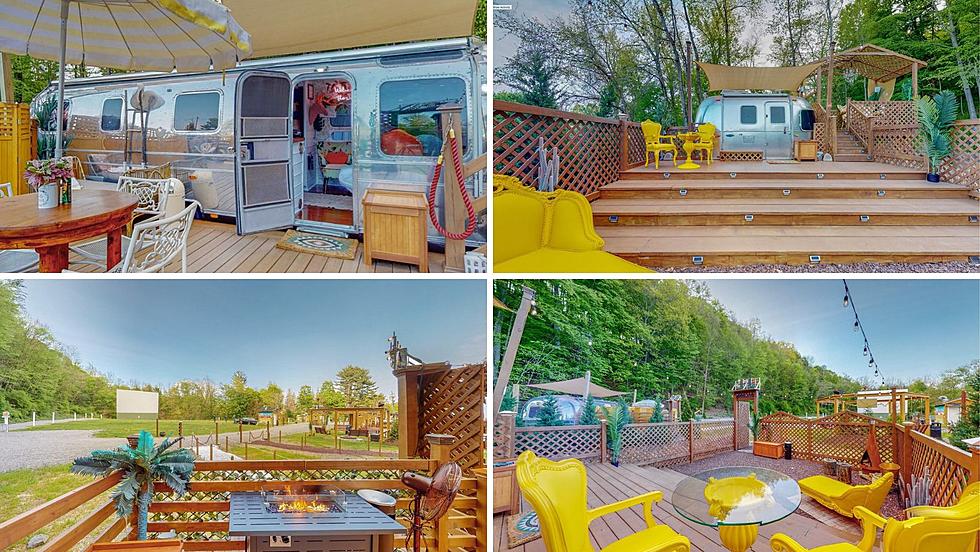 Reawaken Your Body and Soul With a Stay in These Groovy Amenia, NY Airstreams
Hotel Carvana, Facebook
Around this time of year, folks across the Hudson Valley are busy trying to dot the i's and cross the t's on their summer vacation plans.
But sometimes staying in town can be just as exciting! If a staycation is in your future, but you want to visit the past you have to head out to Northern Dutchess County.
Let us explain...
Welcome to Hotel Carvana in Amenia, New York
Hotel Carvana gives guests a chance to transport back to the 60s with a stay in their vintage airstreams. The airstreams and Hotel Carvana sit on the same property as Four Brother's Drive-In in Amenia, which is also home to a restaurant and mini golf course.
While you may be staying in a vintage airstream, with 1960's vibes, it comes with modern-day amenities like WiFi, Heat/AC, a minibar and food for purchase, as well as bathrooms with stand-up showers.
A stay at Hotel Carvana also comes with 2 free movies on the big drive-in screen. You can also spice up your stay with a romantic bouquet of flowers and a special note for an additional fee or get a special message put up on the drive-in screen.
Sounds like a blast, right? The website Lonely Planet has dubbed Hotel Carvana one of the Top 8 Airstreams in the World. And it's right in our own backyard!
If you're not into the Airstream life, there are a handful of camping spots on the property as well (bring your own equipment
Eat, Drink, Play, Sleep and Repeat in Amenia, NY
Four Brother's Drive-In is also known for having some of the best pizza in the area serving everything from traditional pizza to Margarita, Meat Lovers, Hawaiian and more.
The Grand Shack is open too and has everything you need to satisfy your sweet tooth. Of course, they have your typical movie snack stand treats like popcorn, cotton candy, nachos and soft pretzels. But they also make specialty sundaes like the Cookie Sundae that comes with a large warm chocolate chip cookie, vanilla soft serve, Nutella, whipped cream and a cherry on top!
An Amenia staycation is sounding pretty good right about now, right? Take a look at the 2 airstreams available for reservations at Hotel Carvana below!
Reawaken Your Body and Soul With a Stay in These Groovy Amenia, NY Airstreams
It's a Hudson Valley staycation with a groovy, vintage twist.
AutoCamp Catskill Sets Up Camp in Saugerties, NY
Stay the night in a luxury airstream or 'glamp' in a canvas tent under the stars in Saugerties at AutoCamp Catskill this summer.
Boho Wagon Airbnb in the Catskills
Like something straight out of the Wizard of Oz, this amazing homemade wagon offers a luxurious rustic weekend off the grid in the Catskills.