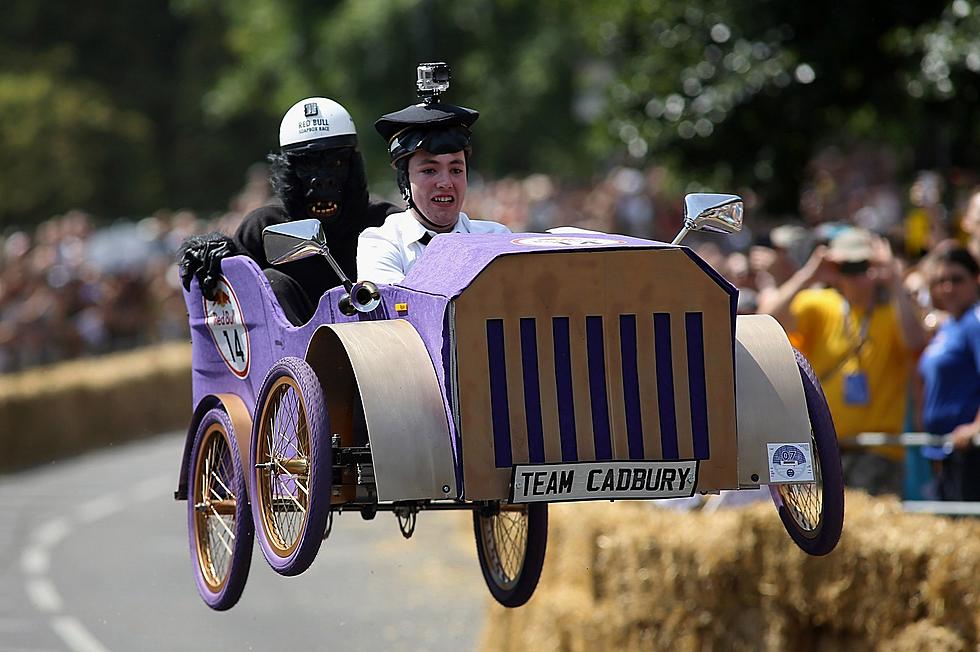 How You Can Be a Part of The Kingston NY Soapbox Derby
Getty Images
Do you have a creative imagination and a love of tinkering? The Kingston Artist Soapbox Derby is returning for the 28th year. If you have never been a part of the annual event, you are in for a real family treat.
How can you be a part of the derby? Make sure that you bring the family and get ready for a full day of activity.
When is the Kingston Artist Soapbox Derby?
The annual Soapbox Derby will be taking place in Kingston NY, along Broadway on August 20, 2023 at 1 pm. The cost to register each 'car' is only $25 and you can register the morning of the event. 
What do you need to keep in mind when you build your soapbox derby car?
Remember that the event is not a race, but an event that shows creativity and engineering. When building the car there are a few restrictions. According to the Kingston Artist Soapbox Derby website, all entries must be within certain specs. They need to be no longer than 15 feet by 6 feet, and no taller than 10 feet tall.
All riders and drivers of the vehicles need to be wearing helmets while they are on the vehicle. There will also be prizes for certain categories. The most important thing about the whole event is to have fun!
Here are many Mini Golf Courses for the entire family's fun and good times!
There is something quite magical about a miniature golf course. We loved them as kids, and now, years later, we love taking our own kids and grandkids to them! Such a nostalgic part of summer vacations from the past to the present. These 14 great Upstate New York mini golf courses, spread all over the region, are the place where are youthful memories still live on.
Here are the Top 10 Mountains You Can Summit with the Whole Family
The summer months are a great time to enjoy being in the Rocky Mountains in Colorado. Hiking to the top of a 14er mountain is a great way to create lasting memories with your family. Believe it or not, a handful of Colorado's 14er mountains are easy to summit. Scroll on to see which fourteeners you can conquer with your whole family.
Want to create your own family fun? Here is a huge family fun center that's for sale
This property will appeal to the kid inside you. With Miniature Golf, Go-Kart Track, Batting Cages, Arcade, Water, and Laser tag plus a concession this mini amusement attraction offers a chance for you to make a living while everyone plays and has fun. Located in Saugerties, New York next to other destination sports venues you couldn't ask for a better location. The Loopnet listing for
455 Washington Ext Family Amusement Center
refers to it as turnkey.