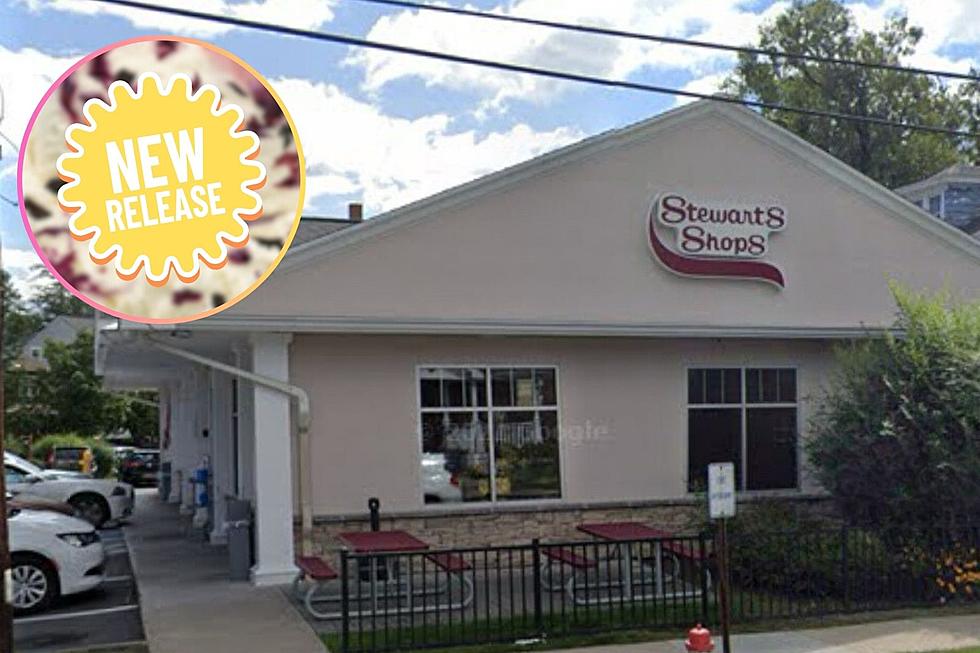 Stewart's Shop Releases New Limited Time Treat
Canva, Google Maps, Stewart's Shops, Facebook
Stewart's Shop is a staple within New York state.
There are over 350 shops that are across 32 counties within New York and Vermont. Did you know that Stewart's Shops are the largest employers located in the Capital Region? They not only have shops but also corporate offices and manufacturing plants.
Stewart's Shops continues to grow and carry on traditions within our state.
Stewart's Shops Is More Than A Gas Station And Convenience Store

When was the last time that you were at a Stewart's Shop? They have become more than just a store, a gas station or place to grab ice cream.
In the Hudson Valley and mainly upstate New York, Stewart's Shops are a place that people enjoy visiting. Personally, I refer to Stewart's Shops as Stewie's. My friends and family laugh when I ask if they want anything from there.
I know that I'm not the only person who absolutely loves Stewart's Shops that it has become a joke.
Stewart's Shops Won Top Workplace Award

With over 350 shops that provide service to customers, they still managed to receive an award.
With no surprise, Stewart's Shops has won the "Top Workplace Award".
Having a healthy work environment plays a part in our overall happiness. From supportive co-workers to having an understanding leader and most importantly, work that is rewarding is important. This is highlighted through the Stewart Shops that I have been to.
Stewart's Shops are also known for having the best milk.
Stewart's Shops Is Always Releasing New Items

In the past, Stewart's Shops released new ice cream flavors and beverages  that Stewart's fan couldn't get enough of.
"Introducing our newest Limited Edition pint, Cookie Party! A sweet vanilla flavored ice cream with chocolate chip cookie AND oreo cookie pieces!"
Stewart's Shops created an ice cream flavor with different cookie pieces throughout the pint.
Stewart's Shops made another announcement on social media about one of their colorful beverages.
"We're shaking things up, circus style! 🎪 Get your hands on the all new CIRCUS SHAKE, a sweet cotton candy flavored dairy shake refresher that'll take you straight to the circus with every sip! Available now for a limited time!"
I enjoy following Stewart's Shops on social media to see their new releases on ice cream flavors, beverages and more.
Stewart's Shops Lovers Were Excited When Their Merchandise Was Released

You know that you love someone when you get them Stewart's merch. A few months back, Stewart's Shops released their online merchandise and Stewart's fans couldn't get enough. I bought a tumbler and socks for one of my family members.
Stewart's Shops continues to release new merchandise for their fans and we couldn't be any happier to rock their merchandise.
Did You Know That Stewart's Shops Released A New Limited Time Tasty Treat?

On social media, Stewart's Shops made a recent post about their newest ice cream flavor called Berry Chip.
"We are BERRY excited to introduce you to this BRAND NEW flavor! 🍓🍦 Berry Chip, a vanilla ice cream featuring a delicious berry swirl and sweet chocolate chips, is

available now at the cone counter for a limited time!"

 
What Do Stewart's Shops Lovers Think Of The New Berry Chip Ice Cream Flavor?
With the new release of the Berry Chip ice cream flavor at Stewart's Shops, Facebook users chimed in.
With over 966 reactions, 195 comments and 294 shares on Facebook, Stewart's Shops fans were quick to show their opinions about the newest ice cream flavor. 
"Sounds delicious 😋"

 

"Maybe an ice cream date later? 😛"

 

"Looks really good😊"

 

"Now that sounds Berrylicious !!"

 

"Yum gotta get me sum 😋"
What Stewart's Shops ice cream flavor is your favorite? Share with us below.
Eat Your Way Through The Hudson Valley With The Best Ice Cream
I have always enjoyed stopping by my favorite local ice cream shops and choosing a new flavor. Whether it's a hot fudge sundae, chocolate peanut butter ice cream in a cone, or an ice cream sandwich, count me in.
The Hudson Valley has
strange ice cream flavors.
From lemon poppyseed to thai iced tea and barn boots, there aren't any boring flavors in our area.
A 'Premiere' Hudson Valley
treat shop
was expanding their space during the winter months to prepare for a busy summer season.
Thankfully, we have a large selection of local ice cream shops to visit in the Hudson Valley.
Gallery Credit: Allison Kay
Restaurants and Stores The Hudson Valley Misses The Most
If you could bring back any store, restaurant or favorite business from the past, which would you choose?
The Hudson Valley was filled with places to visit for our favorite meals, special occasions or simply just for grocery shopping. Some of us may have spent our birthdays at these locations or shared sweet memories that we will remember forever.
Here Are The Restaurants and Stores The Hudson Valley Misses The Most
Gallery Credit: Allison Kay, WRRV's Facebook Page,