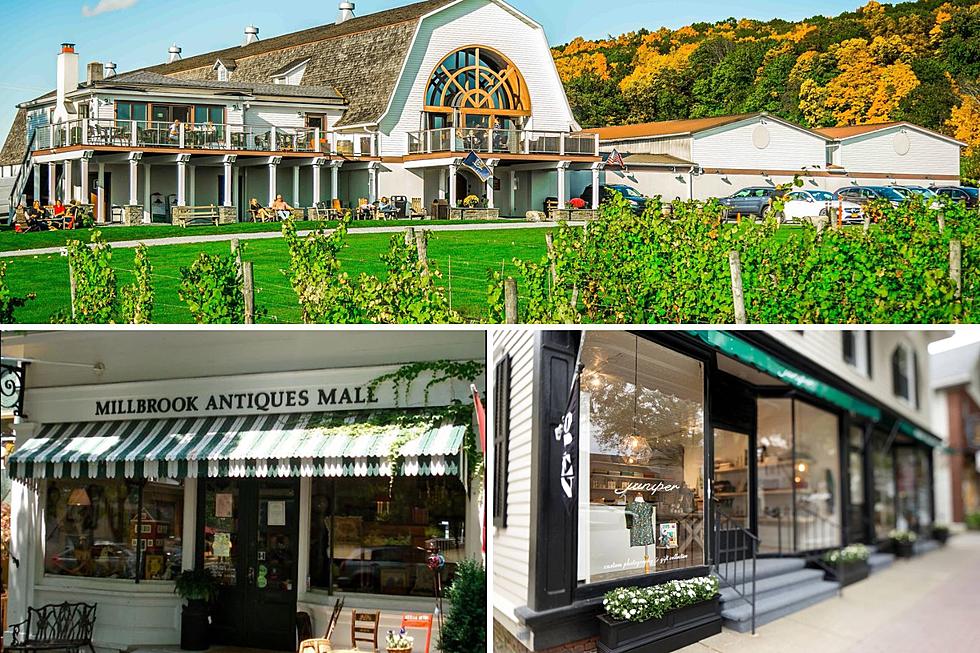 Plan Your Next Visit to Millbrook, New York
Canva / Millbrook Vineyards & Winery / Juniper Millbrook / Millbrook Antique Mall via Facebook
There is a town in Dutchess County that many have heard of but my question is when was the last time you actually spent time in Millbrook, New York?
I am familiar with Millbrook because of its rich equestrian history. The Millbrook Hunt was something many of my horse friends enjoyed doing. Founded in 1890 it is considered to be one of the United States' most treasured equestrian programs. It is full of old traditions and equestrian history.
Points of Interest in Millbrook, New York
Millbrook has also been home to many celebrities that consider the Hudson Valley their home. Mary Tyler Moore, Bette Midler, and more have called this "Hallmark Style" New York town their home.
Millbrook may also have one of the most iconic buildings in our area that unfortunately was torn down in 2022. Halcyon Hall was part of Bennett College which closed in 1978 according to Wikipedia. Halcyon Hall was built in 1893 as a luxury hotel then in 1907 became part of Bennett College. After the college closed the building fell into ruin which unfortunately led to it being demolished in 2022 which was chronicled by Antiquity Echoes in the YouTube Video below.
If you haven't been to the Village of Millbrook in a while here are some of the things Millbrook has to offer for your next visit.
Things to do in Millbrook, New York
There are many delicious places to grab a bite to eat you find the Millbrook Diner at 3266 Franklin Ave, Cafe Les Baux at152 Church Street, the Millbrook Cafe at 3290 Franklin Ave, and plan a stop at Babette's Kitchen at 3293 Franklin Avenue.
Looking to do some shopping? Strolling the streets in downtown Millbrook offers some great choices for gift shopping and more. Find what you need to read at Merritt Bookstore & Toystore at 55-57 Front Street. If you want to pick up an old treasure plan to visit the Millbrook Antiques Mall at 3301 Franklin Ave or Millbrook Antiques Center at 3283 Franklin Ave. Juniper Millbrook 3285 Franklin Avenue can help you with a new outfit. Creel and Gow at 3234 Franklin Avenue have some amazing items for your home.
Heading to a friend's for dinner you can stop at Marona's Market at 32 Front Street for meal essentials then pop by Village Wine & Spirits a few doors down at 45 Front Street for some local spirits. If you are looking to spend a day with local spirits a trip to the Millbrook Vineyards & Winery for a tasting is great any time of year.
Celebrities that have lived in Millbrook
Celebrities That Once Lived in Millbrook, New York
These 5 more famous than us people once called the Dutchess County village of Millbrook, New York home.
Check out this Millbrook Castle
Stay the Night at This Hauntingly Charming Millbrook Castle
Experience the haunted Hudson Valley with a stay at this charming, and allegedly haunted, Millbrook castle.
Magnificent House Found in Millbrook, New York
Elegant Millbrook Estate is a World of it's Own with Everything You Can Imagine
This Greek Revival home sits on a 32 acre Millbrook estate that offers orchards, raised gardens, a stable, a tennis court, a heated pool, a recreation room with catering kitchen, a wine cellar, beehives that yield 150 jars of honey, a 2 bedroom guest house and 3 bedrooms in the main house that all open on to their own private porches. Are you ready to move in?