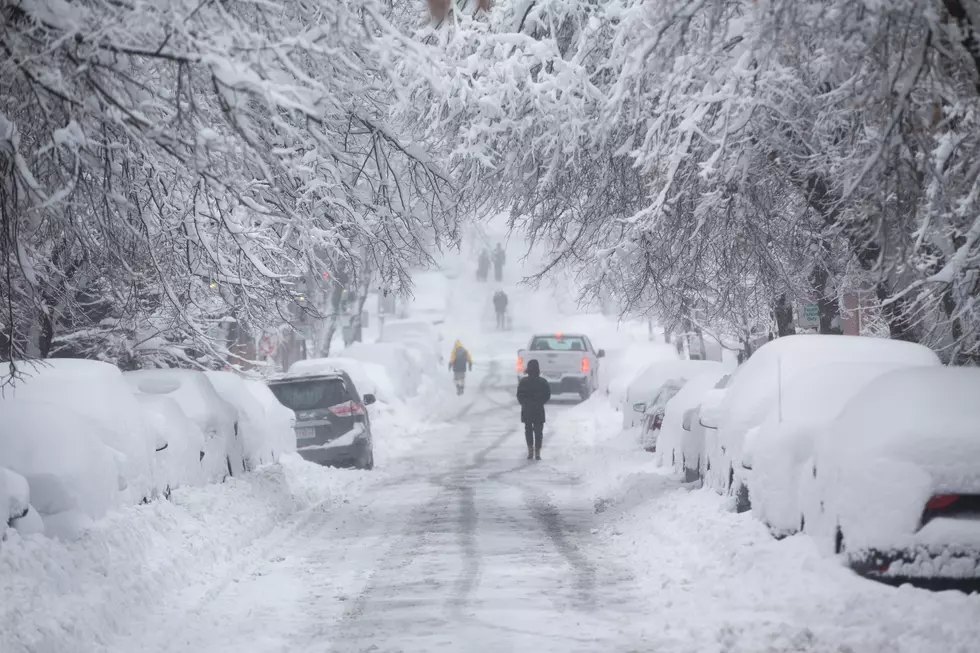 New York Winter Storm Essentials: Items to Have in Your Car
Getty Images
Let's be honest, aside from children that gleefully await school delays and or closings, winter storms can be a serious pain to deal with. They create nothing but hazardous traveling conditions for commuters who have to travel for work whether they are short or long distances. Some people now have the ability to work from home but a lot of people still have to travel despite the harsh weather.
We here in the Hudson Valley are not unfamiliar with the "gifts" that winter may bring however, there are some precautions you can and should take when anticipating a winter storm. Taking these precautions could potentially help you get out of a serious bind if the worst does happen when out traveling in a winter storm.
1. Let's Start with the Basic
Here the "basics" are literally just that, the basics. You're going to want to make sure that in your car you have some food and water. The food doesn't have to be crazy either, your basic snack foods that you can get in the snack aisles at your local supermarkets should suffice.
Continuing with more basic essentials, your going to want to make sure that you have items that can keep you warm. That means blankets, coats, jackets, gloves, hats, etc. Having these in your car with you in a snow storm can be very important, especially if you can't rely on the heat from your vehicle.
2. Car-Specific Items
Next up on the list of essential winter storm items for your car are items that can potentially help you get yourself back up and running and we might mean that literally. Every car normally has them already but you are going to want to make sure that you have a pair of jumper cables in your vehicle in case your or maybe someone else needs to get themselves started again.
In line with this, you will also want to make sure that you have things like a flashlight, batteries, and a battery-powered radio. We all may be obsessed with our phones but if your phone dies all you have is an expensive paperweight. In addition, having a first aid kit as well as a can of 'Fix-a-Flat' would also greatly be advised to have.
3. GET ME OUT OF HERE!!!
These next few items are things you can and should have in the absolute worst-case scenario when traveling during a winter storm. Say you do lose the ability to travel and you are in the middle of nowhere, you're going to want to have some type of item or items that can signal to others that you need help.
Whether that is a sign, a flag, or say even a flare, something that will stand out and catch someone's attention is important.
There are plenty of other items that can also help in such dire situations. Common sense would dictate that keeping a shovel in your car to shovel snow would seem pretty reasonable during a snowstorm.
These last couple of items are very important but oftentimes forgotten when prepping for a winter storm. You are going to want to have either bags of sand or even cat litter in your car, as these items can help you get traction with your tires. Rock salt would also be greatly helpful as it can help with traction but even more than that, it will melt snow/ice.
Like I said at the beginning of this, no one really likes when snow storms roll through and blast the area aside from children. It looks pretty but that novelty wears off as soon as you realize you have to clean out your driveway. Not to mention the nightmare it creates for all commuters and travelers. That being said, having some or maybe even all of these items in your car while traveling could become very useful so you are prepared for winter travel.
The Dates When New York State Typically Sees Its 1st Snowstorm
Great Nostalgic Places We Miss the Most in the Hudson Valley
Having lived in the Hudson Valley my entire life, I'm old enough to remember numerous businesses, stores and markets that have come and gone over the years. So with that in mind, figured why not talk about some of the stores that are the most missed here in the Hudson Valley.
Disgusting Body Changes During Winter In New York State
Have you noticed that when winter arrives, it also brings some annoying (and sometimes gross) changes to your body?