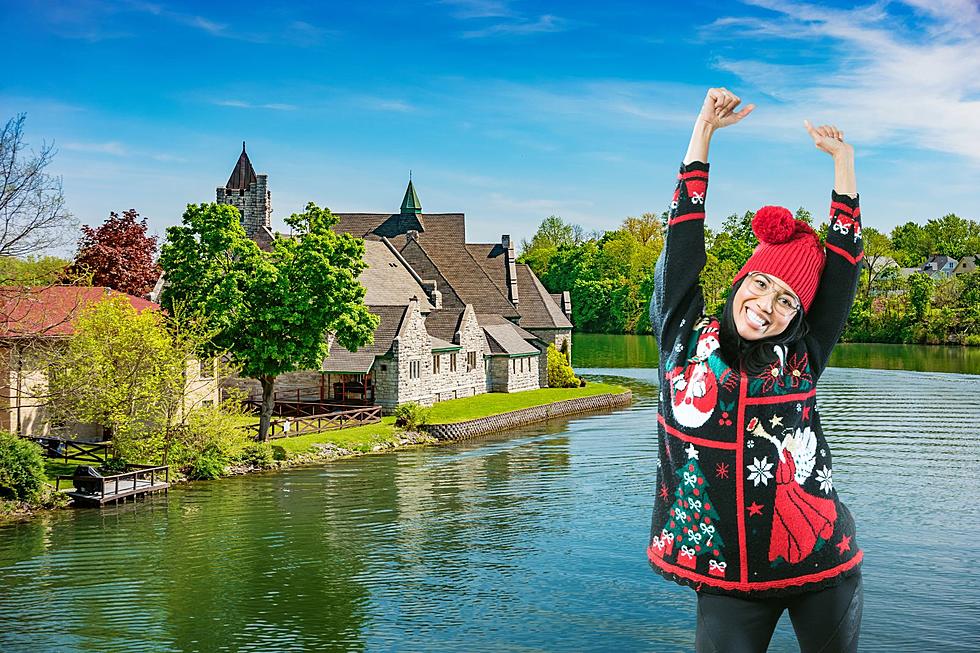 Which New York Town Made the List of "Best Christmas Town in America"?
Canva
It's beginning to look alot like Christmas all throughout New York state.
Local events are being planned and holiday decor is already out for display. A holiday event in Ulster County, NY will take place in November 2023.
A horse drawn carriage ride, face painting, ornament making, special holiday kaleideshow and more will take place to bring in the holiday spirit.
Those who are feeling really into the holiday season can take a drive to one of the best Christmas towns which is located in upstate New York.
Have You Been To This Christmas Town In Upstate New York?
While visiting upstate New York, I made a stop in a beautiful town that some may refer to as a Christmas town.
Filled with charm, character and history, this upstate New York area has an interesting story that some may not know about.
Have you ever heard of Seneca Falls? It's also known as the real Bedford Falls. Each year, this town celebrates a beloved Christmas movie. A Wonderful Life Festival takes place every December during the second weekend. 
However, their museum is open all year round for fans to visit and explore.
Have You Ever Watched It's A Wonderful Life Movie?
Known for being one of the most iconic and watched Christmas movies, fans can explore a museum dedicated to this movie.
One of my favorite Christmas movies is It's A Wonderful Life. It was created in 1946 Starring James Stewart, Donna Reed, Henry Travers and more.
*Spolier alert*
The character in the movie, George Bailey contemplates jumping off a bridge during the holiday season. Things change when his guardian angel, also known as Clarence steps in to rescue George.
As the movie continues, it plays out while Clarence takes George throughout his life, showing each step and stage where he played an important role in so many peoples lives.
Clarence shows George what his family, town and family business would be like without him. At the end, George is able to reunite with all the people he loves and cherishes every single second of his life all thanks to his guardian angel, Clarence.
Visit The It's A Wonderful Life Museum In Seneca Falls, NY
The story of George Bailey may have come from the real story of a Seneca Falls resident, Antonio Varacalli. I took a walk on the bridge that may have inspired Frank Capra to create this movie.
Varacalli will live on as a hero in this small town. He successfully saved Ruth Dunham from drowning but Varacalli passed away. According to It's A Wonderful Life Museum, 
"The town came together to recognize the young man who was awarded the Carnegie Hero Medal and they raised money to bring Antonio's mother, two sisters and nephew from Italy.

 

Several years later in 1921, a plaque was erected and placed on the bridge where it can still be seen today.

This is believed to be the possible inspiration for two key scenes in the movie.

 

Prior to Frank Capra coming on as director, the George Bailey character did not jump into the water to save Clarence, rather he is stopped by a mysterious man who says, "I wouldn't do that if I were you," in response to George contemplating suicide."
Did Frank Capra Get His Idea Of It's A Wonderful Life From Seneca Falls, NY?
Frank Capra created It's A Wonderful Life. Suprisingly, he visited Seneca Falls, NY when he was working on the script for the movie.
Throughout the movie, different New York state towns were mentioned. While visiting Seneca Falls, I noticed that railroad station, houses, main street and bridges looked similar to the ones in the movie.
It's A Wonderful Life was filmed in California but it's said that Seneca Falls, NY was the inspiration for it.
Not only are there It's A Wonderful Life ornaments, puzzles and calendars but so much more. Guests can expect to also see luggage tags, key rings, bells, wine glasses, mugs and more at the It's A Wonderful Life Museum in Seneca Falls, NY.
Seneca Falls, NY Made The List Of "Best Christmas Towns In America You Should Visit At Least Once"
Readers Digest shared
 "The Best Christmas Towns in America You Should Visit at Least Once"
Seneca Falls, NY made the list. They claimed that it's "Best for: Old movie buffs"
"Seneca Falls is also said to be the inspiration for Bedford Falls in one of the best Christmas movies of all time, the 1946 classic It's a Wonderful Life. All season long, you can marvel at the town's similarities to the film and even visit a steel bridge identical to the one where George Bailey (Jimmy Stewart) contemplates his life."
Reader's Digest also shared information about the It's A Wonderful Life Festival which takes place every December. In the past, fans have met actors from the movie including Zuzu who was played by Karolyn Grimes. There are also performances and fireworks that take place during the event as well.
"The town and all its holiday happenings are totally walkable with a stay at the Gould Hotel. The 1920s hotel features richly decorated rooms in a historic building."

 
Which Hudson Valley Town Do You Think Should Have Also Made The List?
This popular, charming Hudson Valley town was once known by a different name.
Believe it or not, a lot of hamlets, villages and towns in the Hudson Valley went by a different name or two. It wasn't until I was driving in Rhinebeck, NY that I actually came across a sign and did my own research to see if there was another name that former residents used to call the area.
Rhinebeck was once referred to as Kipsbergen, but where did the name come from?
Along with it's rich historical roots, Rhinebeck, NY always has festive holiday events.
This historic and cozy little town will also host an enchanted Christmas brunch, Christmas caroling and more events right in Rhinebeck, NY this season.
Top 5 Holiday Treats In Each Northeast State
Gallery Credit: Canva/Unsplash/Google Maps
11 Christmas Towns in New York to Get You in the Holiday Spirit
New York City may be home to the Rockefeller Christmas tree but there are several small towns and villages that will get you in the holiday spirit with all the hustle and bustle of the Big Apple.
Gallery Credit: Credit - Polly McAdams