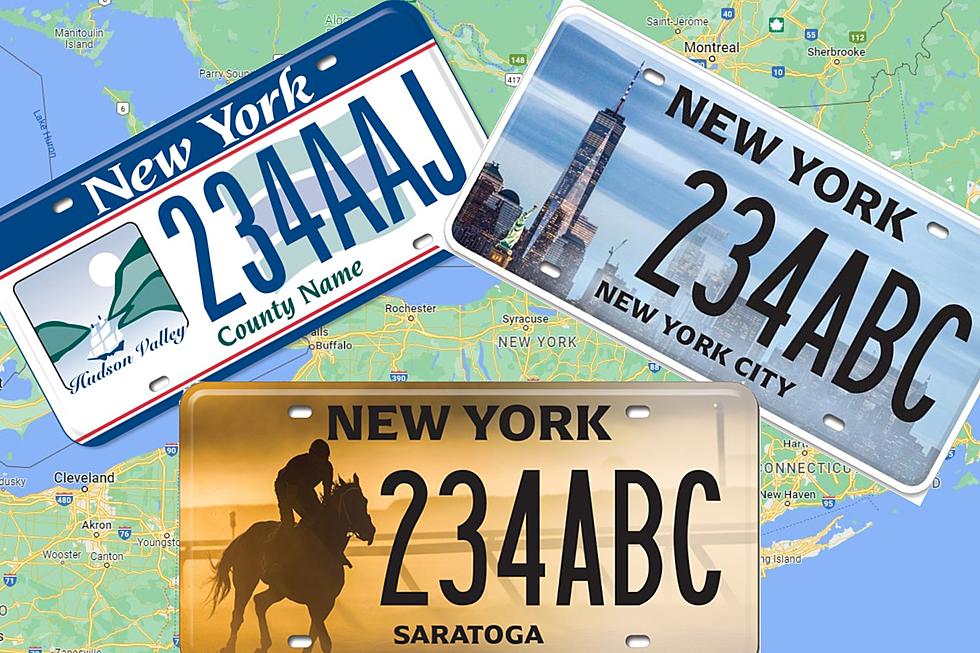 New York DMV Unveils New Regional License Plates
New York State Department of Motor Vehicle
The new license plates feature various parts of New York.
New York's Department of Motor Vehicle has officially released a new line of custom license plates that highlight some of the state's most popular regions. The new custom plates showcase parts of New York including Saratoga, Queens, and New York City.
The DMV hasn't made all the new plates available just yet as many regions haven't been released but if the ones that have been released say anything, the new line of plates are going to look great!
Hudson Valley License Plate
The Hudson Valley region is one of the first regional plates that the DMV made available a while back and as you can see above, it features a white background, a blue border, and red lines. The numbers are blue and there's an interesting drawing of the "Hudson Valley" featuring a valley and a ship on what appears to be the Hudson River. The Hudson Valley plates are available for residents in Columbia, Dutchess, Orange, Putnam, Rockland, Ulster, and Westchester Counties and will cost $60 initially and $31.25 annually if you use a random plate number. If you want them personalized they will cost you $91.25 upfront and $62.50 annually.
New York's New License Plates
The DMV has also released plates for New York City, Queens, and my favorite so far, Saratoga Horse Racing (pictured above). They are planning to release numerous regions in the next few weeks according to their website including regions like the Adirondack, Capital-Saratoga, Catskill, Central-Leatherstocking, Chautauqua-Allegheny, Finger Lakes, Niagara Frontier, and the Thousand Islands.
For more information on the new plates available in New York, check out the DMV online here. Here are some of our favorite license plates now available in New York...
New York's New License Plates
New York's newest custom license plates celebrate various regions of New York.
Crazy Pictures From Smoke Filled New York State