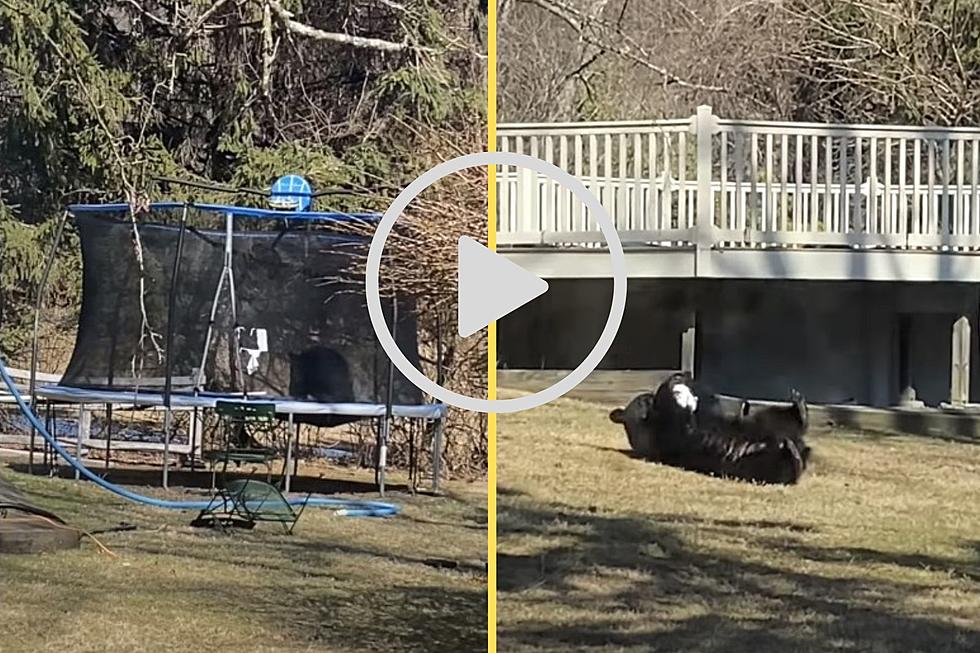 VIDEO: Wappingers Falls Bear is the Cutest Thing I've Ever Seen
acdashw via YouTube/Canva
Sometimes you just need 45 seconds of an adorable wild animal frolicking in a backyard to make your whole day better.
Spring has sprung, and along with the myriad flowers emerging from our thawing ground, bears are showing their faces once again, too. None, however, are having as much fun as one black bear who tried out nearly every toy in a local backyard in Wappingers Falls.
Black Bear in Wappingers Falls, NY
"On an otherwise unremarkable Tuesday morning I looked out the window at exactly the right moment…" said the homeowner who managed to capture the absolutely adorable action. "The bears are waking up and ready to play... I ran from window to window taking videos, and then I had to do something with them so please enjoy". The bear started with a soccer ball (below) and then decided to check out the trampoline.
Adorable Video of Dutchess County, NY Black Bear
The New York State Department of Environmental Conservation (NYS DEC) says that the main reason bears wander into yards and other human-populated areas is for food. The NYS DEC recommends taking down bird feeders by the end of March and properly securing garbage cans as two ways to combat human-bear interaction. In this video (below), though, this bear seems like they just want to party.
Field Day for Local Black Bear
In what might be the most convincing video evidence that black bears are just people in fur suits, this joyous creature can be seen wrestling with pool cleaning equipment, "sweeping" with a broom, and even playing on a trampoline. Oh to be a bear in the sun in a Wappingers Falls backyard...
As endearing as the above video is, it's important to stay strong and keep the warnings from the NYS DEC in mind. Not only is it against the law to feed bears, the animals can also be aggressive if they feel threatened, especially if they have cubs. A 300-pound omnivore with fangs and claws is not something to take lightly, no matter how much you want to jump on a trampoline with one. Find out the best ways to interact with all New York wildlife below, and keep scrolling to see what happened when a black bear visited SUNY New Paltz.
New York Animal Encounters
What do you do if you encounter these animals in the woods of New York?
Bear on Campus at SUNY New Paltz NY
On Thursday (June 23, 2022) this unassuming good-size black bear wandered onto campus and decided to climb a tree. The SUNY New Paltz Police along with the NYS DEC Police monitored the situation on-site. They were able to encourage the campus visitor to return home without incident.