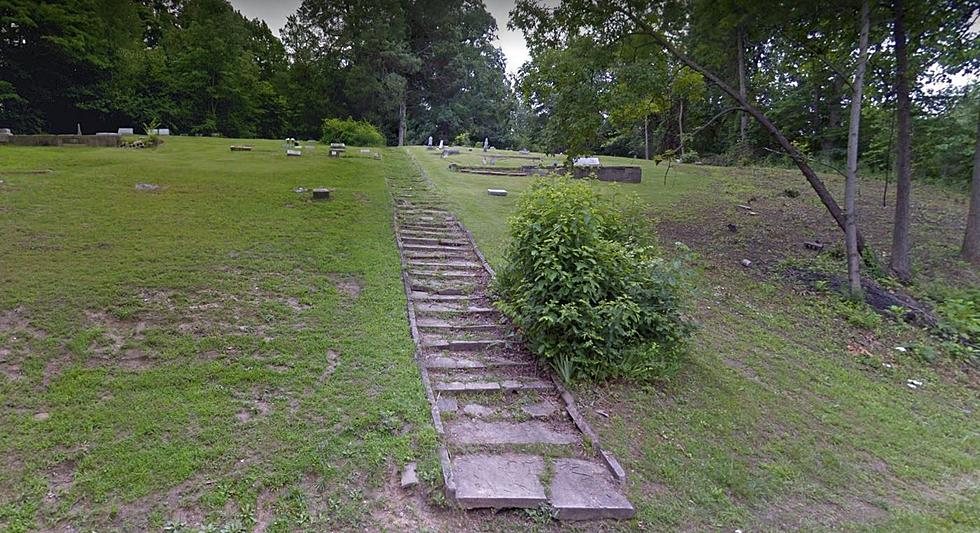 The Ghost of the '100 Steps Cemetery' near Brazil, Indiana Will Reveal Your Fate
Google Maps
The 100 Steps Cemetery near Brazil, Indiana is considered the most haunted cemetery in the state.
You'll find the cemetery just south of the old National Road, today's US 40, east of Terre Haute in the unincorporated community of Cloverland on CR 675W. It's Cloverland that gives the cemetery its proper name.
What is the 100 Step Cemetery Legend?
There are several stories that are associated with the cemetery, the most commonly told is about climbing the stairs at midnight. Once you've counted 100 stairs the spirit of a former caretaker is to appear and reveal your fate - the time and manner of your death.
LegendTripping shares the story like this:
you need to climb the stairs at exactly midnight, counting each step as you go. When you reach the top, you should have counted 100, and if you do, the ghost of the original caretaker of the cemetery will appear to you and tell you the date and nature of your death. The story continues that you must then climb down again, still counting, but if you do not count 100, the caretaker returns and kills you on the spot.
The Indiana Folklore Collection at Indiana State University in Terre Haute has collected dozens of retellings of this tale. In most of these versions the interesting twist is there are 100 steps counted when going up but only 98-99 when going back down. Taking that final step is a step to hell.
Note the cemetery lists its hours as dawn to dusk, so doing the steps at midnight would not be lawful.
Did the Stair Repair Destroy the Legend?
Recently the cemetery tore out and replaced the stairs. The Google Maps Street View image shows the concrete is a state of disrepair and overgrown. Certainly, it could be said the original steps were no longer safe. But did the removal end the legend? Others have reported that the 100 steps aren't a true century but rather closer to 60.
In these videos, some shot before and some after the stairway project, there sure do look like an awful lot of steps.
The tourism site for the state of Indiana shares even more lore and gives a look at the rehabbed steps.
Explore More Cemeteries
The 'Angel of Death' Statue in a Clevleand Cemetery Has Roaming Eyes Cries Black Tears
Tour an Abandonded Cemetery in Troy, New York
A Walk With the Ghosts of Union Cemetery in Easton, Connecticut
25 Celebrities Who Practice Witchcraft or the Occult
[h/t TrippingOnLegends]