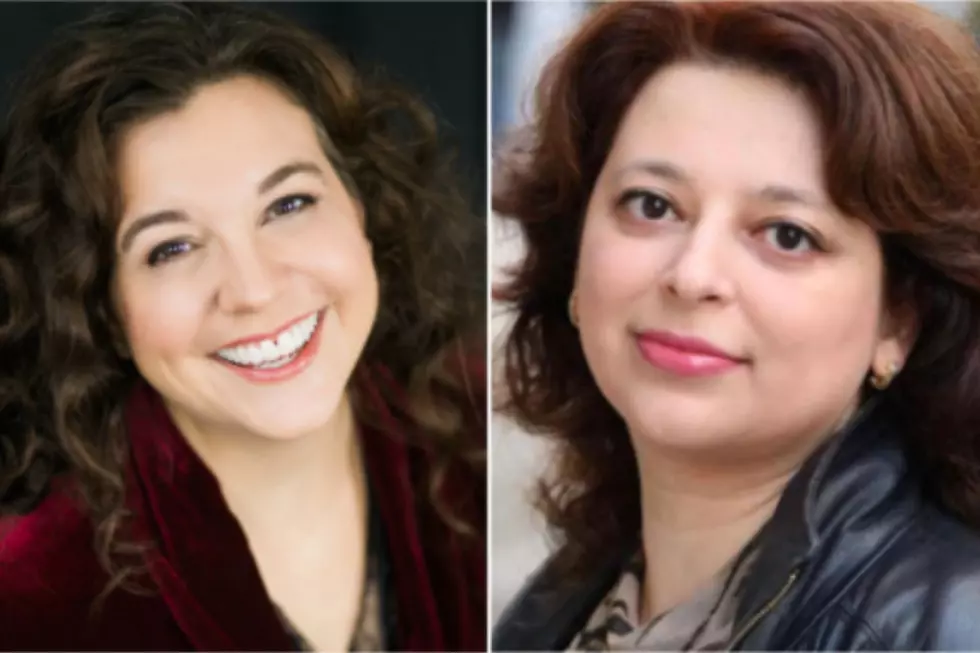 "This Ukrainian American Life" Concert to Raise Money for Ukraine
Razon for Ukraine
Hudson Hall will soon present "This Ukrainian American Life - a concert/cabaret fundraiser for Razom for Ukraine." The performance will feature contralto Vira Slywotzky and composer/pianist Dina Pruzhansky.
On February 24, 2022, Russian President Vladimir Putin launched an unprovoked invasion of Ukraine. Russia's unprovoked invasion has set alight one of the bloodiest conflicts in Europe since World War II. Despite being vastly outnumbered, Ukraine has mounted a strong defense. Regardless, Russian bombing and shelling have pummeled Ukrainian cities with civilian casualties growing each day and creating an enormous refugee crisis.
The violence has internally displaced nearly seven million people and forced over six million to flee to neighboring countries. A former Soviet republic, Ukraine has deep cultural, economic, and political bonds with Russia, but the war could irreparably harm their relations. Some experts view the Russia-Ukraine war as a manifestation of renewed geopolitical rivalry between major world powers.
Razom for Ukraine, Inc.
"Razom" means "together" in Ukrainian and serves as a constant reminder of the community that it takes to create, build, and do. Razom creates spaces where people meet, partner, and work together to unlock the potential of Ukraine. They maintain a relentless focus on the needs on the ground to support Ukraine and on opportunities to amplify voices from Ukraine in conversations in the United States.
With over 170k volunteers and donors, Razom for Ukraine has raised over $70 million in its mission. Razon works to provide critical humanitarian war relief and recovery to address the most urgent needs as they evolve. Razom focuses on getting aid directly into the hands of people in Ukraine, providing tons of medical kits, hospital supplies, medicines, and communication equipment. Many of the first responders on the frontlines have been supplied by Razom.
Razom also specializes in helping local Ukrainian volunteer organizations provide immediate humanitarian care to the people affected by the war by delivering food, evacuating civilians, and providing shelter.
Besides working on the ground, Razom advocates for Ukraine by educating about policies that strengthen and support Ukraine. They have built connections with civic leaders, activists, and elected officials in Ukraine and the United States to relay critical information to the public, media, businesses, and government officials.
About the Performers:  Contralto Vira Slywotzky
Born and raised in Cambridge, Massachusets, Slywotzky received an MM from Mannes and a BA from Yale.
Slywotzky has premiered more than 25 vocal works including the role of Mrs. Fatima Bakshlevi in The Woman in Penthouse A, a monodrama with music by Martin Henseey and works by Stephen Kitsakos.
From 2008 to 2018, Slywotzky sang with Mirror Visions Ensemble, a vocal trio known for its innovative programming, nuanced performances, and extensive commissioning. Slywotzkycan is heard on the group's 2015 commercial recording, The Three-Paneled Mirorr.
Slywotzky was the recipient of a 2007 Richard F. Gold Career Grant, has been a New England Regional Finalist in the Metropolitan Opera National Council Auditions twice, and in 2009 was the sole representative of the United States at the BBC Cardiff Singer of the World Competition.
Slywotzky has performed principal roles with Seattle Opera, Chautauqua Opera, Chelsea Opera, Center for Contemporary Opera, Light Opera of New York, Sarasota Opera and Boston Midsummer Opera, and has appeared in concert with the Boston Youth Symphony Orchestra, Cambridge Symphony Orchestra, Rockland Camerata and New Haven Chamber Orchestra. She has sung recitals and concerts in New York at Merkin Hall, the Metropolitan Room, Opera American, Sheen Center, SubCulture, Symphony Space, Ukrainian Institute, Ukrainian Museum, Weill Hall at Carnegie Hall and YIVO.
Internationally, Slywotzky has performed at the Hudson Music Festival in Hudson CA, Festival D'Avignon in Avignon, FR, at Le Musé des Arts Décoratifs and the American Church in Paris FR, at the Armel Opera Festival in Szeged, HU, at the Rimsky-Korsakov State Conservatory in St. Petersburg, RU, and at the Gustov Adolf Church in Sunsdvall, SE.
About the Performers: Composer/pianist Dina Pruzhansky
Born in Azerbaijan to Jewish Ukrainian parents and raised in Israel, Pruzhansky moved to New York in 2006. She is a postgraduate alumna from the Mannes School of Music. She serves as a faculty member at the 92NY School of Music. A passionate educator, she is the author of the book of easy piano arrangements, "I Can Play Chopin." Pruzhansky holds an MA in piano performance summa cum laude from Te-Aviv University and a Bachelor's degree in Art History.
Pruzhansky's creative output ranges from classical concert music to cabaret and from liturgical works to musical theatre. Her work has been featured at Carnegie Hall Stern Auditorium, Jazz at Lincoln Center, Merkin Hall, Bargemusic, Symphony Space, YIVO, Opera America, Aspen Music Festival 92NY, The Kosciuszko Foundation, Le Poisson Rouge and others. Her works have been broadcast on radio WQXR, radio channel Kol HaMusica and several European Networks.
An alumna of the Tony-awarded BMI Advanced Musical Theatre Workshop, Pruzhansky was nominated for the 2009 Fred Ebb Award for Excellence in Musical Theatre Writing and selected as a finalist for the NYMF 2019. She has served as composer-in-residence at Temple Israel of Northern Westchester and Temple Shalom, Dallas. Her liturgical works have been featured at the Zamir Choral Festival NAJCF.
Pruzhansky's opera film Heroes of New York with libretto by Briana Hunter (2021) has been named an official selection for a number of international festivals including O22 by Opera Philadelphia. Pruzhansky was awarded an Aspen Composition Fellowship in 2019, won 1st prize at Noosa Isam International Piano Composition Competition in 2018 and 3rd prize at the International Joseph Dorfmann composer competition in 2018.
Her opera Shulamut was premiered in 2014 through a commissioning grant from Genesis UJA, presented in a new production in 2016 at the JCC Manhattan and then in part at Aspen Music Festival in 2019. Selected premiere performers include Aspen Conductor's Orchestra, ACE Quartet, Seplice Players, Downtown Sinfonietta of White Plains, Bacchanalia Strings Ensemble, Quartetto Indaco, the ARK Trio, NB Chamber Group, clarinetist Julian Milkis and pianist Hagai Yodan.
This Ukrainian American Life
With Dina on the keys, Vira will take the audience on a somewhat autobiographical journey through American and Ukrainian classical, folk, and popular song. Slywotzky's dual heritage serves to bring together such diverse composers as Mykola Kysenko, Aaron Copland, Kyrylo Stetsenko, Amy Beach, Yakiv Stepovy, Cole Porter, Vasyl Mykailyuk, Martin Hennessy, Ihor Sonevytsky and Sheila Silver. The program culminates in an original work by Dina Pruzhansky, to words of the Ukrainian poet Lesia Ukrainka.
"This Ukrainian American Life" will be held on Friday, February 10th at 7pm at Hudson Hall. Admission is free, but suggested donations of around $25 to Razom for Ukraine are strongly encouraged. You can reserve seats ahead of time by emailing virasly@razomforukraine.org
15 Ways You Can Help People in Ukraine Right Now
As Americans watch events unfold in Ukraine, many wonder how they can help. Below is a list of organizations responding to the crisis in Ukraine along with information on how you can support their various missions.
Rock + Metal Bands Helping Provide Support for Ukraine
Amid Russia's invasion of Ukraine that began in February 2022, several rock and metal bands came up with ways to offer support for affected Ukrainians. See some below.
Celebrities React to the Russian-Ukraine Crisis