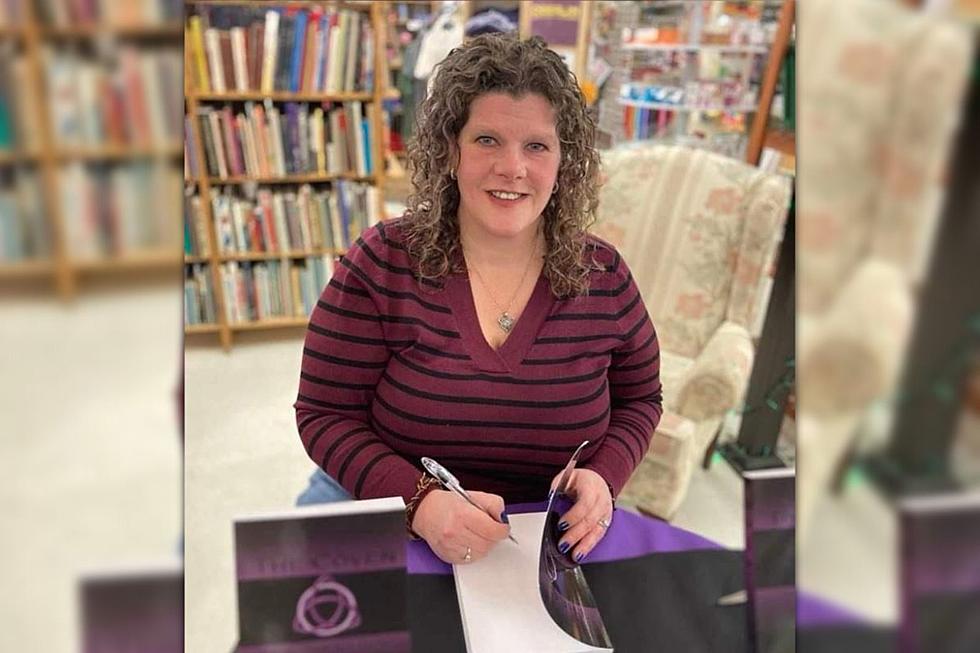 Hyde Park, NY Native Releases 4th and Final Book in "The Coven Series"
Ashlynn Stone Knight
Hyde Park Native and FDR graduate Ashlynn Stone Knight closes out her series of novels, The Coven Series, with the fourth and final installment, The Absconded. 
The Coven Series by Hyde Park Native Ashlynn Stone Knight
The tag line of the books has been "She's perfectly average. He's carrying
The Coven's secrets. Sharing those secrets could prove deadly to both." This Urban Fantasy series is intended for the same audience as Twilight—almost everyone. It's packed with mystery, suspense, love, strength, and an intriguing storyline. Despite the title of this series, witches aren't present in any of the books, nor are werewolves or vampires. It breaks stereotypes and is a fresh take on the supernatural genre.
To add more detail, the series is written first person, from Aurora Washington's point of view. Thirty-two-year-old Aurora meets James, a mysterious, vague, and suspicious man. Although it's impossible, she has a feeling he has a supernatural ability. She is a perceptive woman but has no idea James is hiding as many secrets as he is. As a strong bond forms between the two, Aurora falls victim to his unique power, confirming her superhuman assumption.
Eventually, she has enough of his secrets and demands he tell her how he stole time from her. James warns her that sharing the information could lead to her death, but she doesn't heed his warning. Once James' father, the king of The Tacitus Coven, learns James shared The Coven secrets with Aurora, he gives her two choices: either leave her beloved family and the life she loves so much to become a Tacitus, or face termination.
The remainder of the series follows Aurora through her years as a human police officer, saying goodbye to her family, transforming into a Tacitus, developing never-before seen
powers, a near-fatal childbirth and later, protecting her child's life although by doing so,
she put her life at risk. The sacred laws of The Tacitus people are barbaric but allow
them to live undetected among humans for longer than the human species existed.
The summary of the latest novel, The Absconded explains:
Aurora Barrington is thriving as Queen of The Tacitus Coven and as a mother, with one exception—crippling fear. Braxton can't prove his ability to his father, King James Barrington. Failure to do so will result in his immediate death. To protect her son, Aurora takes the twins and flees both America and The Coven, fully knowing if they're caught, James will order her termination.

As Aurora vigorously helps Braxton find his ability, he discovers he carries extraordinary powers, far superior to warping. Between the trio's special abilities, they remain undetected for months until Aurora learns a threat is coming to The Coven species. Putting her and the twins' lives at risk, she contacts James, bringing the tactical team to Aurora's overseas doorstep. Although they manage to escape before Tacitus security arrives, a careless mistake leads them back to James.

Around the same time, The Coven's threat arrives at the meeting hall. James expects it but not the phenomenal powers his son demonstrates to save The Coven. Will Braxton's powers be enough to spare his life? Will Aurora's curse save hers?
For a more in-depth understanding of "The Coven Series" along with Ashlynn Stone Knight as a whole, you have to read my interview with her several months ago when the book was still being finalized.
Of course, follow Ashlynn on socials to stay up to date with all the info with "The Coven Series," other published works, and more!
11 Amazing Bars to Get Wine in Dutchess County, New York
According to Google Reviews, these wine bars in Dutchess County, New York have been ranked among the best in the area. Have you had some wine from any of these spots recently?
10 Awesome Arcades & Entertainment Centers in Dutchess County, NY
Hamilton Mansion to Transform into Luxury Spa
A mansion originally built for the great-grandson of Alexander Hamilton (and most recently a Rockland County, NY convent), will now transform into a luxury spa