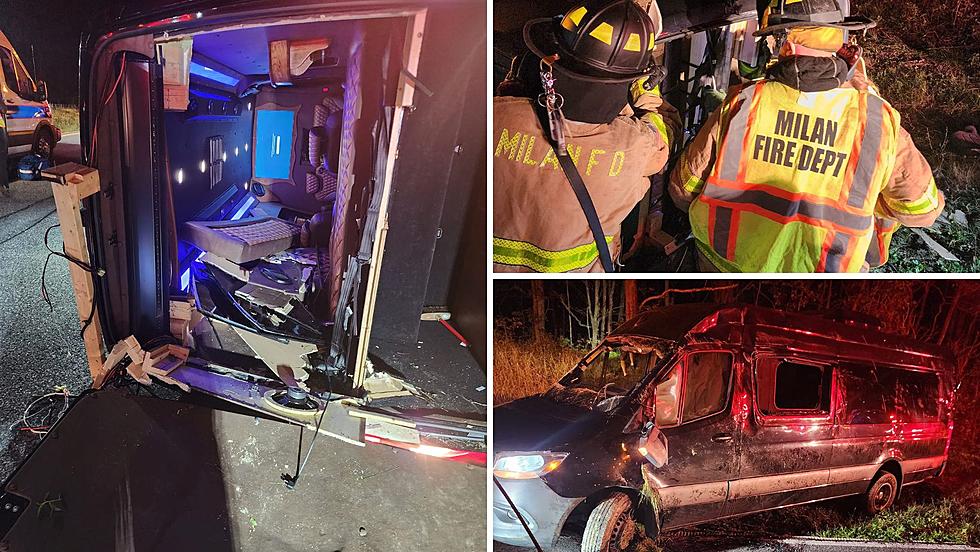 Early Morning Party Bus Rollover Traps 6 in Milan, NY
Milan Volunteer Fire Department, Inc., Facebook
A party van driving on one of New York's most dangerous roads flipped in the early morning hours of Wednesday, July 12th.
"Party Bus" Flipps Over in Milan, NY
The Milan Volunteer Fire Department reports that they were dispatched shortly after 3 am to an accident on the Taconic State Parkway. The volunteer fire department along with Northern Dutchess Paramedics, New York State Police, and Dutchess County Sheriff's arrived on the scene to a "party style van" flipped over.
In a statement the Milan Volunteer Fire Department explains further:
Units arrived to find 6 people trapped in a party style van. Access to patients were gained by removing the front window and a makeshift wall in the rear. All 6 people were removed and transported to area hospital for evaluation.
Thanks to everyone on the scene including  East Clinton Fire Company, Dutchess County Department of Emergency Response and Matt's Auto Body they were able to clear the scene a little over an hour later around 4:23 am.
A Reminder of the 2018 Limo Crash in Schoharie, NY
While we aren't privy to more details other than what was mentioned above, accidents involving party buses and limos always remind us of the tragic limo accident in the Albany area in 2018.
A limo carrying 17 party guests blew through a stop sign going 100mph, crashing into an SUV and 2 pedestrians. All passengers and the 2 pedestrians, one from Kerhonkson, died due to the crash. The driver Nauman Hussain, according to CNN, didn't have the proper license to operate a limo. Additionally, the vehicle failed an inspection a month prior and shouldn't have been on the road in the first place.
Nauman Hussain was found guilty of 20 counts of manslaughter in May of 2023.
25 Little Things That Make A Big Difference To Have On Your Next Road Trip
PHOTOS: Road Trip Through New York's Ice Cream Trail
Hop aboard the New York Ice Cream Trail!
The 9 Best Road Trip Destinations In New York State
These are the 9 best road trips to take across New York State.