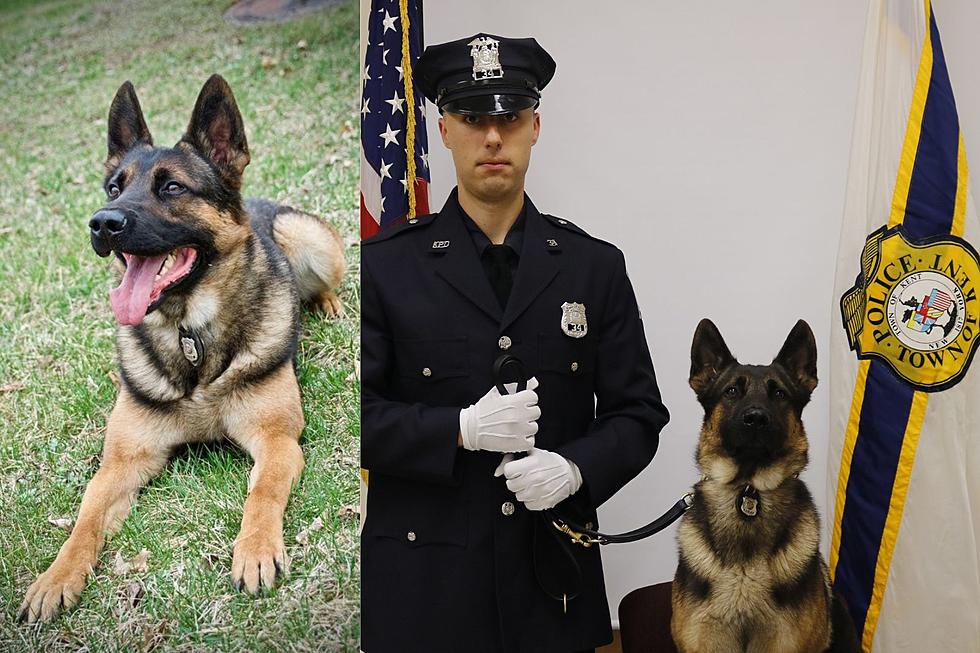 'Unexpected Medical Emergency' Claims Life of Kent K9 Police Officer
Town of Kent Police/Facebook
The Town of Kent Police Department is heartbroken to announce the unforeseen passing of one of its own.
Many police departments in the Hudson Valley have a K-9 division within their department and as you could imagine when one of the departments loses an officer the whole community shares in their heartbreak.
Kent, New York K-9 Officer Passes
The Town of Kent Poice Department has announced that at the young age of 7 K-9 Maverick passed away after suffering an "unexpected medical emergency". Maverick passed away peacefully with his handler and family on March 19th according to the department's Facebook page.
K-9 Maverick
Maverick started his career in the Town of Kent alongside his handler Sergeant Corey Ashe in 2017 and like most handlers and K9s, they developed a strong bond immediately according to police. Maverick was a dually certified K-9 holding certifications as a patrol and narcotics detection K-9 and was also a member of the Putnam County Emergency Response Team. K-9 Maverick had a successful and decorated career and just last month successfully tracked a suspect after a domestic disturbance, which led police to apprehend the subject.
Kent Remembers K-9 Maverick
Police remembered Maverick on Facebook saying, "K9 Maverick made a considerable impact on our community not only while on patrol, but at community events as well. Maverick's work ethic was matched only by his joy. When he wasn't on patrol, he loved being with his family. The Town of Kent Police Department will miss him dearly and be forever grateful for his service."
After the police posted the heartfelt message, hundreds of folks began commenting and sharing condolences, "I am so very sorry for Sergeant Ashe and the entire Kent PD. Maverick may you rest in eternal peace and thank you for your service", "Cross that rainbow bridge and know that you are a hero K9 Maverick. Thank you for your service and my heart goes out to your handler and his family because I'm sure you weren't just a partner but a family member".
Rest in peace Maverick!
Meet The Pups Who Have Been at the Dutchess County SPCA for Over 400 Days
Looking to add a furry friend to your family? Meet these adorable rescues who are looking for their FURever home.
Meet the Hiking Therapy Animals of the Hudson Valley
Eleanor Pigby made a splash on social media around the Hudson Valley this week. Turns out she's part of a pretty special team. Get to know Eleanor and the rest of the Pets For Purpose Animal Therapy group of The Summit School in Nyack.