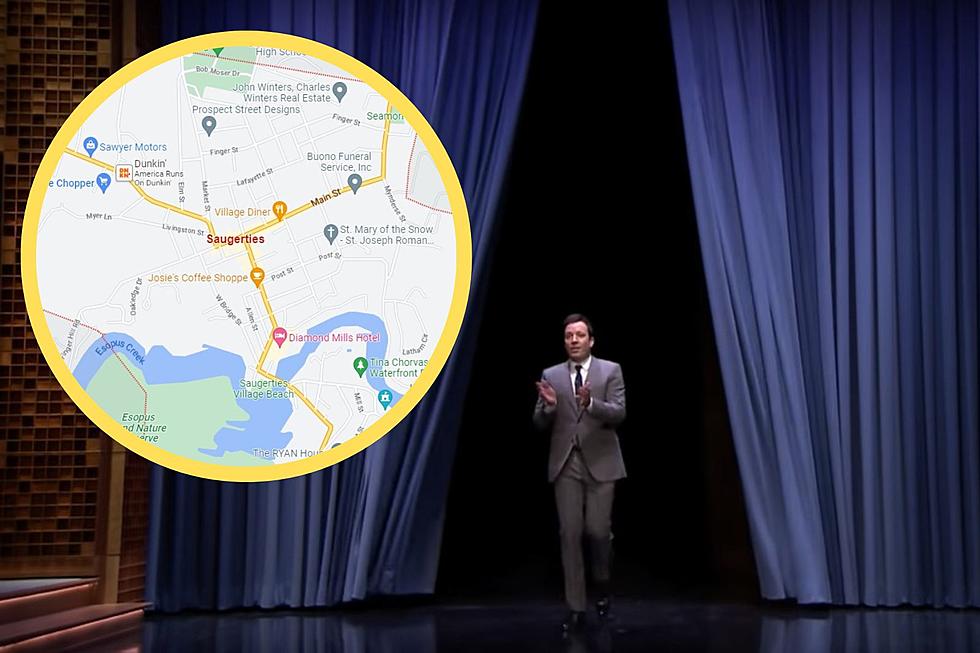 Saugerties, New York Stars On Tonight Show Anniversary
Jimmy Fallon via Twitter/Google
The Hudson Valley has a few famous exports: cement from Rosendale, NY that helped build the Brooklyn Bridge, the abbreviation "OK", and of course the host of the Tonight Show Starring Jimmy Fallon... Jimmy Fallon.
It wasn't clear how long Jimmy Fallon would hold the host position when he took the reins in 2014. Turmoil on the show saw Conan O'Brien replacing Jay Leno who then returned to replace O'Brien. Last week marked an impressive nine years for Fallon, however, and he celebrated by putting his hometown of Saugerties, NY back in the spotlight.
Saugerties, NY Native Jimmy Fallon Celebrates Nine Years Hosting the Tonight Show
"I am 9 years old today", began a tweet from Fallon on February 17th. "The Roots, Steve Higgins, [Tonight Show] staff and crew - I couldn't have done it without you. To everyone who has watched me & supported me all of these years - thank you." The shared video (below) featured his very first Tonight Show monologue which included multiple Hudson Valley references.
Saugerties, NY Shout-Outs on the Tonight Show
Fallon began by highlighting the fact that the show had returned to the Empire State for the first time in four decades. He continued by humbly saying, "I honestly don't know how I got here. I grew up in upstate New York, in a town called Saugerties, NY". The crowd erupted into applause, to which Fallon replied "there's not even that many people from Saugerties [to applaud like that], so that's impossible".
While it's always special to have the Hudson Valley recognized on national television, it's hardly rare. The film and television industry has been rolling their cameras on both sides of the river with increasing frequency, and some movie stars have even decided to call our corner of New York their home. Check out some of the more popular projects to use the Hudson Valley as a backdrop below.
25 Films And TV Shows Filmed In The Hudson Valley Since 2020
Here is a list that's been complied of the 25 films and tv shows that have been filmed in the Hudson Valley since 2020.
Take a BTS Look at Poker Face Episode 7 Filmed in Beacon and Chester, NY
Did you catch episode 7 of Poker Face on Peacock? 2 Hudson Valley arcades got the Hollywood treatment.