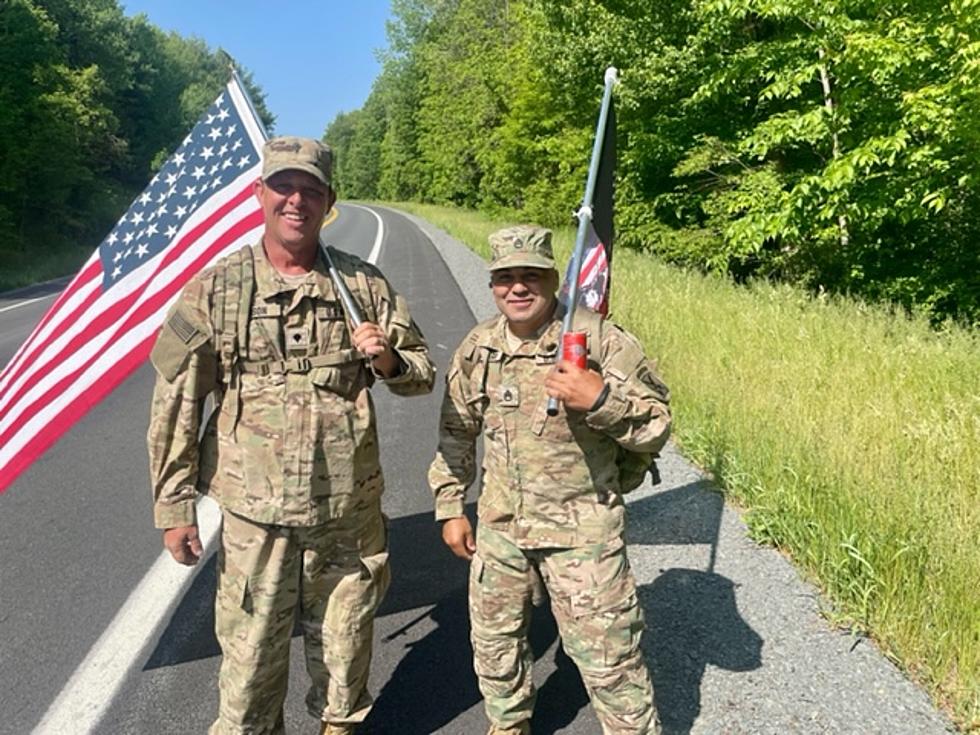 Hudson Valley Veteran Honors Soldiers With 22 Mile Trek
photo courtesy of Mark Roszkowski
How did you mark Memorial Day 2023? There is a person who marks both Memorial Day and Veterans Day each year, thinking about all of the men and women who have not only served before him, and after him, but those who have served and taken their own life.  He does this all by putting one foot in front of the other, for 22 miles.
This person's name is Retired Army Sergeant Danny Santiago, and he does this not because he wakes up one day and thinks it would be a 'great day for a walk' but because he knows that the numbers are too high, the numbers of military (active duty and retired) that have chosen to end their own lives.
Where does Sargent Santiago walk to honor the military who have committed suicide?
You can see the path of Retired Sergeant Santiago's journey of the 22 miles he walks from Wurtsboro NY to Kerhonkson NY in the photograph below. It does not matter what the weather is, too hot, too cold, doesn't matter. He will continue to walk this journey to bring awareness to those military men and women who have taken their own lives.
According to the USO, the rates of military committing suicide are at an all-time high. While one soul leaving us early is too many, according to the records (which have only been kept since 9/11/2001) almost 31,000 military, this includes active duty, deployed, and retired, have committed suicide since 2001.
Does Retired Army Sergeant Danny Santiago do this for a charity or to raise money?
According to his friend Mike, he isn't at this time, however if you see him on the 22 mile trek, honk your horns, say hello, and know that no matter how bad or how tough it gets there are people who want to help.
If you or someone you know is having suicidal thoughts, or just needs to talk to someone, call 988.
Is there someone in your community that is trying to make a difference or bring awareness to a cause? Let us know about them email Brandi.Hunter@townsquaremedia.com.
Honoring our Military and Veterans
Brett Michaels Honors Veterans on 'Monday Night Football'
How These Capital Region Businesses Are Saying "Thanks" This Veterans Day
Here's a list of restaurants and stores where veterans can get discounts and free food. Some also extend the gratitude to active-duty servicemembers as well and even their families. All deals listed below are only for Friday, November 11 unless otherwise stated.
We thank America's veterans for representing our country at home and abroad.