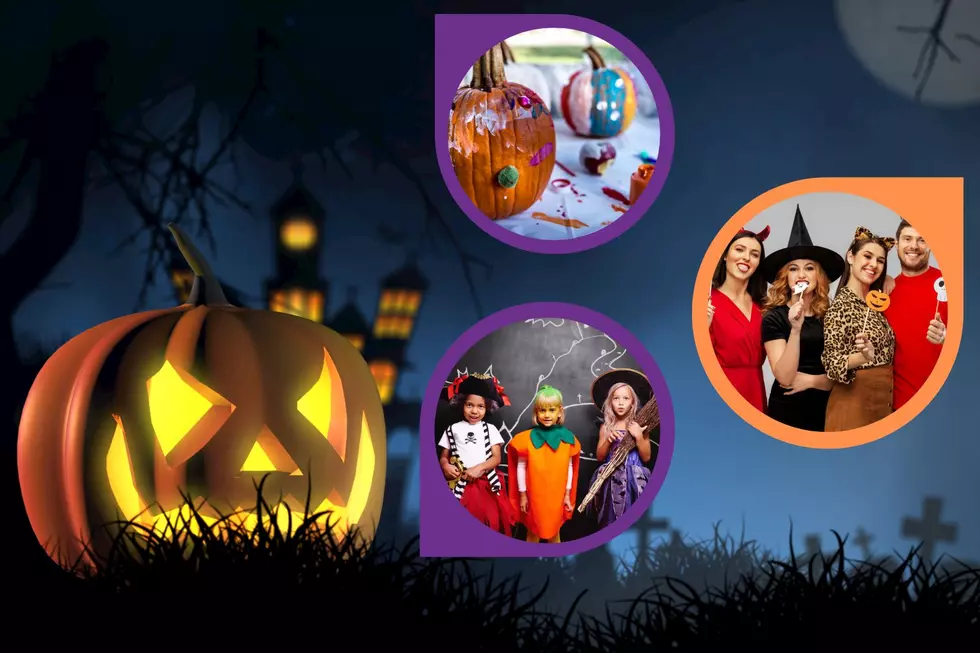 Find The Must Do Halloween Activity in Your Hudson Valley County
Canva
Each season is special in the Hudson Valley. Year round, there are activities and events going on that include the many holidays.
There is a lot to do in the Hudson Valley during Halloween.
Do You Know About The Legend Of Sleepy Hollow?
Whether you're a visitor or local, there's something for everyone. Sleepy Hollow, NY is one of the top visited places during the spooky season. This Hudson Valley town was actually renamed about a fictional character. Guests can see also see the Legend of Sleepy Hollow come to life.
Imagine Seeing Over 7,000 Pumpkins In One Location In The Hudson Valley?
The Great Jack O'lantern Blaze is also a must see destination. There are over 7,000 illuminated jack-o'-lanterns that are hand carved on site. These historic grounds date back to the 18th century of the Van Cortlandt Manor. I had the opportunity to go here a few years back and it was like nothing that I have ever experienced before. I'm excited to head back and see all of the pumpkins, light show and zodiac center.
Are You Ready For Some Groovy Vibes But With A Twist?
View this post on Instagram
A post shared by Bethel Woods Center (@bethelwoodscenter)
Peace, Love & Pumpkins, is happening again this Halloween season at Bethel Woods Center for the Arts. This walk-thru experience has glowing pumpkins, witches and even Woodstock's festival icons. Although, these events and activities are fun for spooky season in the Hudson Valley, are also more one of a kind experiences for Halloween weekend.
Here Are The Must See, Unique Halloween Experiences In The Hudson Valley
In Dutchess County, NY
Barton Orchards
63 Apple Tree Ln, Poughquag, NY 12570
 

 

 

View this post on Instagram

 
Hocus Pocus Live! is happening on October 29, 2022 from 8:00pm-10:00pm. This is apart of the Summer Orlando Productions.
This event will take place inside of Barton Orchard's heated main stage tent. With your Hocus Pocus Live! ticket, you gain entry to the farm during the day and enjoy the Trick of Treat Festival as well. Hayrides, live music, an adventure in the corn maze are also some of many options available on site. Enjoy food from local food trucks and alcoholic beverages from the Taproom.
Be sure to wear your favorite Halloween costume for this event. Tickets are available but almost sold out.
In Orange County, NY
LEGOLAND New York
 1 Legoland Blvd, Goshen, NY 10924
View this post on Instagram
This event is located at the "ultimate LEGO theme park and hotel destination!" in Goshen, NY. This is happening on October 29-October 30, 2022. This Monster Party will include live entertainment and shows, attractions, character meet and greets and trick or treating on site. Admission is included with the day tickets and more. Tickets are available. In Ulster County, NY
Gunks Gaming Guild Cafe
17 Church St, New Paltz, NY 12561
On October 30, 2022, Family Pumpkin Painting will take place at one of New Paltz's hotspots from 9am-12pm. There will also a Halloween Costume Party at the same location. This will take place on October 28, 2022. There will be a raffle, costume contest, party games and more.
What will you dress up as?
In Sullivan County, NY
The Kartrite Resort & Indoor Water Park
555 Resorts World Dr, Monticello, NY 12701
View this post on Instagram
Halloween Weekend can be celebrated at New York's largest indoor waterpark. Halloween Hullaballoo weekend will take place from October 28- October 30, 2022, this includes all ages. There will be a glow in the dark dance party, pumpkin decorating, trick or treating and more.
Frankenstein's Lab will also be open.
What are your plans for Halloween weekend in the Hudson Valley? Share with us below.
Check Out These Capital Region Furry Friends in Costume For Halloween
It's that time of year and why should humans have all the fun? These Capital Region pets are all dressed up for Halloween. If you are still wondering how to dress up your furry friend, this may give you some inspiration.
12 Halloween Events in Upstate New York That Are Spooktacular!
Here are a dozen Halloween events across Upstate New York that are not to be missed. From haunted hayrides to paranormal walking tours, and to a night with Edgar Allan Poe, these are all spooktacular!