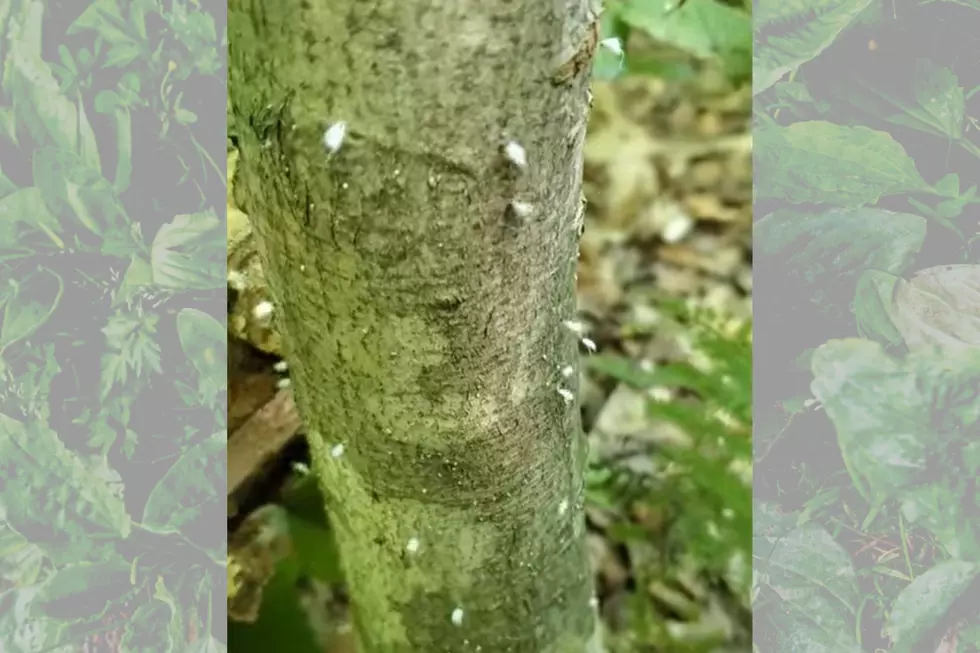 It's Alive! Those Aren't Just Small White Hairs on Trees in New York
Credit - NY Department of Environmental Conservation
Looks may be deceiving, but that fuzz on your tree isn't just white wool blowing in the wind.
If you've walked through your backyard or into the woods, you've probably seen these little white fluffy things before. Many might think its fur, feathers or even mold... but it's actually none of these.
That small fuzz is a living bug, dancing up a storm in a forest near you.
The Boogie-Woogie Aphid
That's right! Not only are these little "floof balls" an insect, but they have a wicked cool name. The Boogie-Woogie Aphid, also known as the beech blight aphid, are native to New York and feast on beech tree sap.
As a nymph, it's adolescent stage, the aphid will group together with other nymphs on trees. They then waive their wooly butts back and forth to confuse predators.
So instead of just being fur stuck to a tree and blowing in the wind, these little dudes are actually having their own dance party. It could be for survival, but dancing for your life does sound pretty cool, right?
The good news about the boogie-woogie aphid is that they rarely harm beech trees. They could easily fill their bark "dance floor", but natural predators like birds and beetles keep their population under control.
Don't Touch Them
Just like how they cling onto the trees for food, they can also poke you if you decide to grab them. They look soft and cute, but it doesn't mean you should disturb them or any other insect/animal in the wild.
Instead, show them who's got the better dance moves! No sense in poking them and breaking up their dance party when you can join in yourself. If you do, make sure you send us a video for proof!
The 10 Deadliest Animals at the Utica Zoo, Ranked
Thankfully, the Utica Zoo is pretty safe. But that doesn't mean you'd want to come face-to-face with every single animal who lives there.
The 5 Deadliest Tornados In New York State History
Here is a look at the 5 deadliest tornados in New York's history since 1950 according to
NewYorkDataBases.com
9 Of New York State's Most Wanted Criminals- August 2023
Below are individuals wanted by the New York State Department of Corrections and Community Supervision's (DOCCS) Office of Special Investigations who have been designated as its
Most Wanted Fugitives
. They should be considered armed and dangerous. This list is current as of 8/01/2023:
NEVER attempt to apprehend a fugitive yourself. If you have information on the location of any of these fugitives, you can contact OSI 24 hours a day / 7 days a week to report it. All leads and tips are treated as confidential information.
If an immediate response is necessary, such as you see the wanted person at a location, please call "911" and report it to the police.
11 Companies That Hire Felons in New York
Everyone deserves a second chance. Here are some companies that are willing to hire felons, on a case-by-case basis.
9 New York Ice Cream Shops With Massive Cones It'd Take Two to Eat
Here are 9 shops in New York that serve cones and sundaes so big you may have to call in help.