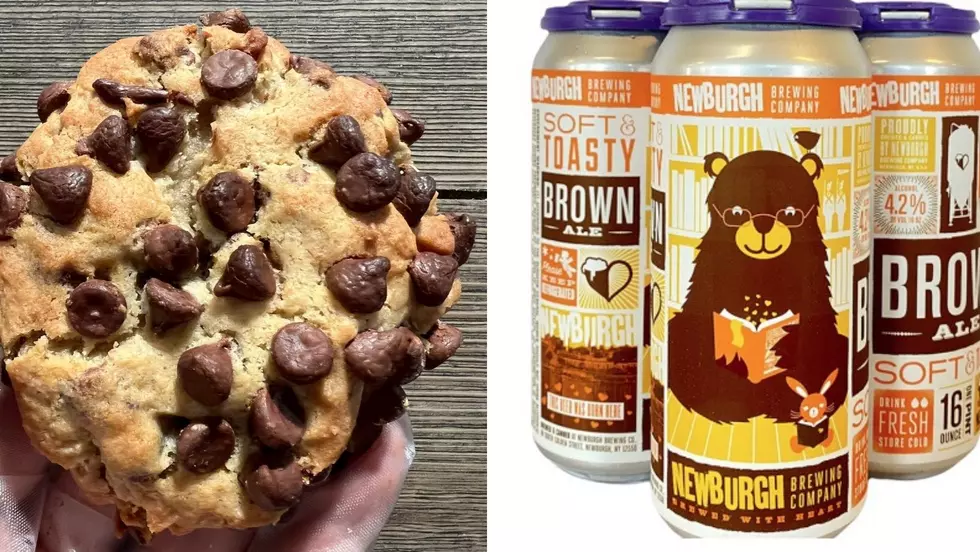 2 Hudson Valley Businesses Join Forces For Beer Infused Chocolate Chip Cookie
Halfsies Cookie Co./ Newburgh Brewing Company
Need another reason to drop your New Year's Resolution to cut out sweets or start Dry January? Boy, do we have inspiration for you!
Two local Hudson Valley businesses have joined forces to create a pretty sweet treat. Newburgh Brewing Company and Halfsies Cookie Co. have put their delicious brains together to create a beer-infused cookie.
Halfsies describes the newest cookie on their lineup writing:
We partnered up with Newburgh Brewing Company to bring you these delicious cookies. Our Chocolate Chip cookie with Honey (inspired by their Bear on the label), a touch of their brown ale, and rolled in milk chocolate chips.
Chocolate chips on the outside and inside of the cookie!? With a dash of Newburgh Brewing Company beer? If that doesn't sound like the perfect Hudson Valley combo I don't know what does.
Inspiration continued to strike Newburgh Brewing Company brewers as their latest craft beer was inspired by Halfsies' called "I Hate Raisins" Oatmeal Cookie Imperial Brown Ale. The brown ale will have notes of chocolate and big oats as well as a "touch of vanilla, cinnamon and brown sugar." The "I Hate Raisins Oatmeal Cookie Imperial Brown Ale" from Newburgh Brewing Company will be available soon.
Look for the announcement from the Newburgh Brewers on social media.
This isn't the first time that Halfsies Cookie Co. has teamed up with a local restaurant. In the fall of 2022, Halfsies and Brix teamed up for a mouthwatering Halfsies Cookie ice cream sundae.
Halfsies also made headlines towards the end of 2022 when the anchors on Fox and Friends enjoyed the Marlboro-made cookies:
Cookies and ice cream. Cookies and beer. Who needs a New Year's Resolution? Enjoy locally-made cookies and beer guilt-free in 2023, we give you permission. Order your Halfsies Cookie-Newburgh Brewing creation today at HalfsiesCookiecompany.com.
18 Hudson Valley Bakeries With the BEST Black & White Cookies
From Kingston to Poughkeepsie, to Ellenville and Newburgh. We've got the B&W cookie map covered for you. Who's down for a Hudson Valley Black and White Cookie road-trip-taste-test?
Have You Tried Marlboro's Newest Bakery and Cafe?
Check Out These Delectable Treats From Hazel Rose Baking Company
Former Brewster Bar Now a Popular Gourmet Bakery Called 'General Bakeshop'
Back in April of 2021, I noticed some signs of life in a building I, and so many other Brewster people are familiar with. Construction was underway at a former bar known as "Norm's." Right around that time, I wrote an
article
about the bar's history and looked forward to see what would come of the space. The building recently began it's new chapter and I had to go down and check out the new General Bakeshop to see how the work came out and how the food was.