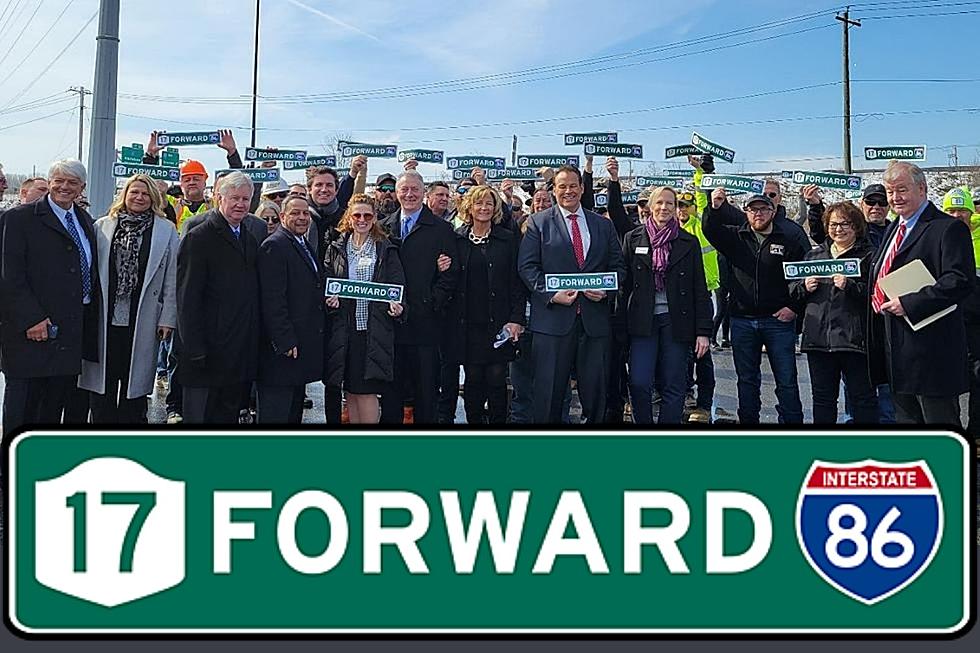 Gov. Hochul Hailed For $1 Billion Environmental & Construction Plan
17-Forward-86 Coalition
New York Governor Kathy Hochul is being hailed for her plan to allocate $1 billion for environmental and construction phases for Route 17. This comes apart of the new five-year state Department of Transportation (DOT) capital plan. The $1 billion will be used towards the environmental review as well as the construction of the long-awaited project to add an additional lane and make other necessary upgrades to Route 17. Governor Hochul stated that the funding will be used to "accelerate the conversion of the Route 17 corridor in Orange and Sullivan counties to Interstate 86, fueling transformative levels of economic growth in the region and improving quality of life by alleviating congestion."
A Major Victory
One group, in particular, that is celebrating this win is the 17-Forward-86 Coalition. The 17-Forward-86 Coalition, which was founded in 2018,  is a broad-based coalition of industry, trade, and civic representatives who have long been advocating to improve the mobility and safety in the region by adding the above mentioned additional travel lane along Route 17 to convert the corridor to Interstate 86 in Orange and Sullivan Counties.
On March 10th, the Coalition hosted a rally in Middletown with local, state, and federal representatives to urge Governor Hochul and state legislators to commit construction funding as part of the NYSDOT capital plan by using part of the more than $5 billion in additional funding earmarked for New York State under the federal Infrastructure Investment and Jobs Act.
The Budget Announcement
In the budget announcement, Governor Hochul cited "landmark investments" in the Hudson Valley that has resulted in the expansion of Woodbury Common and the construction of Legoland and Resorts World Catskills Casino. The governor noted several DOT projects that have already upgraded sections of Route 17, including reconstruction of the interchange at Exit 131, where Route 17 meets I-87 and Route 32 (Woodbury Common), and reconstruction of exits 122 and 125 (Legoland) to meet interstate standards.
The final Planning and Environment Linkages (PEL) study for the Route 17 corridor was issued by the NYSDOT back in November of 2021. the PEL report was based on extensive public outreach and provides the path forward to address current and future transportation needs. The PEL confirmed previous NYSDOT studies that identified an additional travel lane, safety upgrades, and enhanced park-and-ride lots as necessary to address safety and mobility needs across Route 17. With the funding now in place, the DOT can begin the EIS, which is expected to be accelerated and streamlined due to the previous analysis conducted back in 2013 and recently completed PEL processes.
Members of the Coalition Share Their Gratitude
17-Forward-86 Coalition co-chair Maureen Halahan, President and CEO of the Orange County Partnership said this about the latest announcement:
"We thank Gov. Kathy Hochul and the State Legislature for making Route 17 a priority for investment... This project will improve mobility and safety in the region by making much-needed upgrades to Route 17. It's been a long road to this point, and we're overjoyed to see this project finally move forward now that the necessary resources have been allocated." 
Sharon Soons, Executive Director of Vision Hudson Valley and Coalition member added that "safe and reliable mobility is a priority for us all, and we now have the opportunity to get the environmental studies going and chart the best path forward." 
In regards to economy and infrastructure, Greg Lalevee, Business Manager, IUOE Local 825, and member of the 17-Forward-86 Coalition said, "As New York State continues to rebuild, we must seize opportunities to get our local economy back on track... One of the surest ways to do that is to get people to work and to attract investments here in Orange and Sullivan counties."
17-Forward-86 Coalition co-chair Marc Baez, President and CEO of the Sullivan County Partnership had this to say looking forward:
"We are grateful to the governor and our local, state and federal lawmakers – and to the thousands of stakeholders working with us to see this project become a reality... This is good news for our residents, visitors, first-responders and all those who travel Route 17. We now have the chance to improve safety on this corridor and ensure sustainability for generations to come." 

 
Hudson Valley Says Goodbye To Over 100 Businesses
Worst Hudson Valley Bridges to Drive Across
The five main Hudson river crossings ranked from worst to first with commuter comments.
25 Best Coffee Shops in Dutchess and Orange County
We've put together a list of 25 best coffee shops located in the Hudson Valley