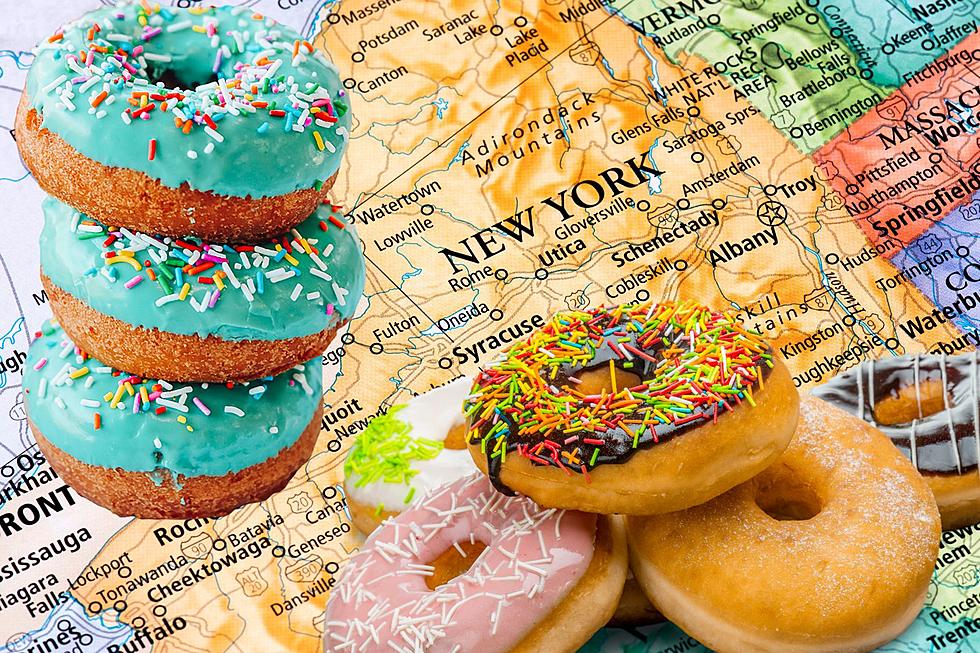 Two of Top 10 U.S. Cities Serving Up Best Donuts in New York
Credit - Think Stock/Canva
Donut shops will be giving away free donuts for National Donut Day on June 2. But, where can you get the best tasting donuts in the country? Two of the Top 10 best cities for donut lovers are in New York State, and they are nowhere near the Big Apple for a change.
#5 Buffalo, New York
Buffalo came in at #5 with Paula's Donuts reigning supreme.
Among the favorites? Paula's peanut sticks, a cake donut stick coated in peanuts. The menu also includes classic sprinkles, Bavarian-style donuts, and glazed and jelly donuts.
There a number of options to choose from in Buffalo where there are 18 donut stores for every 10,000 people.
#2 Rochester, New York
The name of the game in Rochester, New York is family-owned and secret recipes.
Donuts Delite has baked their famous cannoli donuts since 1958. Ridge Donut Cafe, operating since 1977, boasts over 30 varieties.
The Cinnamon Rolls at Donuts Delite are to "die for," especially when they are warm out of the fryer, which they usually are.
See the full list of top donut cities at Rent.com.
Best in CNY
Dunn's Bakery used to be home to the best donuts in Central New York. The Canastota bakery served up delicious pastries for 80 years. COVID closed the shop and then owner/baker Tim Dunn was diagnosed with cancer. He passed away in January.
Read More: Dunn's Bakery Made to Die For Donuts for 5 Generations
Holland Farms Jelly Buns
If you've never had a Jelly Bun from Holland Farms, you don't know what you're missing. They are filled with black raspberry jelly that the manufacturer continues to make only because Holland Farms uses so much of it. Then they are covered in powder.
The famous Jelly Buns are so good it's worth the mess they make when you eat them.
Read More: 10 Commandements of Famous Jelly Buns
Dunn's Bakery Making To Die For Donuts for 5 Generations
Dunn's Bakery is a 5 generation family business that has been serving the community for the past 80 years. It all began when Tom Dunn's grandfather delivered baked goods to camps by boat in Old Forge. The legacy has come to an end. Dunn's Bakery is closing for good after the current owner, Tom Dunn was diagnosed with cancer.
21 Of The Most Famous Foods Created In New York