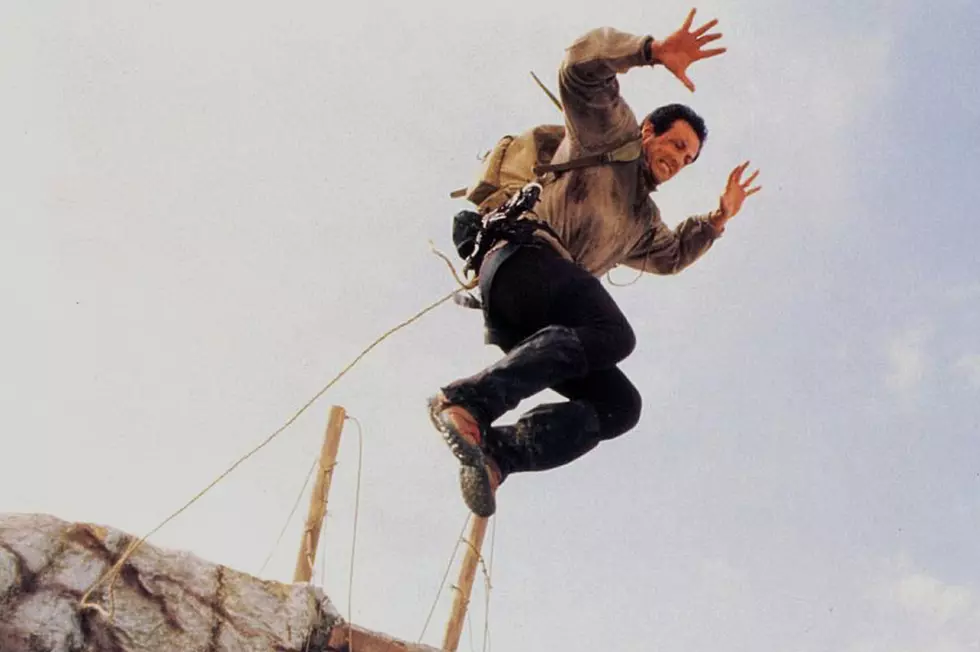 30 Years Ago: Sylvester Stallone Lives in Fear While Making 'Cliffhanger'
Carolco / Tri-Star
Sylvester Stallone was in the deepest valleys of a Hollywood star's career as the '90s began. His recent movies had flopped and he knew drastic action was needed to reascend the heights. When he signed up for the lead role in Cliffhanger, he was prepared to pay the price of returning to success.
There's no avoiding the movie's similarity to 1998's action classic Die Hard, but the Bruce Willis series had reinvigorated the genre – so there was safety in sticking close to the formula. As a result, Cliffhanger features a troubled hero (Stallone as Gabe Walker, a mountain ranger suffering from guilt( a ruthless English villain (John Lithgow as rouge intelligence officer Eric Qualen), and a series of Greek myth-style labors for the main character.
Walker abandons the career he loves as a rescue specialist because he failed to save his best friend's girl from falling to her death. When Qualen's daring attempt to steal $100 million from the U.S. Treasury leads to his gang crash-landing on Walker's old territory, the ranger and his former companions believe they're heading out to rescue lost climbers. There follows a chain of James Bond-level set pieces until the inevitable showdown between the good guy and the bad guy.
"I felt I had to break some kind of mold; I was into a certain pattern," Stallone admitted around the time of Cliffhanger's release on May 28, 1993. "I said, 'Please, Lord, give me something that's out there, different, that we haven't seen for a long time." Believe it or not, the next day, this producer Mario [Kassar] said: 'I think I got what you really need.' He said, 'It's about mountains.' I said, 'I hate heights! I hate climbing!' He said, 'Trust me – do it,' and I went."
Watch the 'Cliffhanger' Trailer
His reasoning was simple: "In your life, you hit a couple of crossroads that really make all the difference. Rocky was one, and this is the second. This is a comeback." In fact, Stallone was so committed to the project that he re-drafted Michael France's screenplay and wound up with a writing credit. "What we tried to do was take the simple foundation of nature as being a character, set a panorama that was spectacular, and go back to basics," he said. "Old-fashioned, non-preachy, let it go: bad guys are bad, good guys are good, and not try to get the two mixed up."
Of course, his fear of heights inevitably kicked in during shooting on the Dolomite Mountains in Italy: "Every day … but to me it was kind of a good scared," Stallone said. "It makes you a little bit alert."
Cliffhanger saw Lithgow establishing a reputation for playing screen villains, which he very much enjoyed – even though he doubted his own performance and received some negative reviews for his English accent. "It was the most fun movie I had ever done," he told Yahoo. "I got to have a great big knock-down, drag-out fight with Sylvester Stallone. Every actor should have that much fun at some point. You can hit him as hard as you can, and it's never enough for him."
In the end, Lithgow felt he was "just dreadful in that film, but that didn't matter. It was such fun." He later revealed that he moved up to the lead supporting role at the last minute. David Bowie and Bryan Ferry were reputedly among those in line.
Watch the 'Cliffhanger' Opening Death Fall Scene
"My role was supposed to be [played by] Christopher Walken, but he bailed and they sort of moved me up the night before," Lithgow said. "I remember sitting around with [director] Renny Harlin trying to decide what nationality Eric Qualen was. Was he an American Secret Service man, maybe a South African? Or how about an Englishman? It was literally that – I said, 'I don't think I can master South African overnight, and I think we should make it something other than American. Let's just go the Alan Rickman route.'"
The tagline "Hang On" often appeared larger than the title, and it proved both smart and ironic. Cliffhanger was nearly the victim of Carolco Pictures' financial problems. Filming had to be halted twice because the crew couldn't be paid. A web of supporting investments added to the confusion. When it went $40 million over budget, Stallone reportedly chipped in $2 million of his agreed-upon $15 million fee.
In the end, however, the movie was a hit, grossing $225 million worldwide. It also entered the record books for the most expensive stunt of the time: Simon Crane was paid $1 million to cross a wire between two airplanes at 15,000 feet. The opening scene became recognizable enough to be spoofed at the start of Jim Carey's second Ace Ventura movie two years later.
It might very well have been Die Hard on a Mountain for some, but Cliffhanger was successful enough to eventually inspire talk of a sequel.
Watch the 'Cliffhanger' Showdown Scene
'Rocky' Films Ranked
Much like the fictional fighter's life, the Rocky films have experienced both highs and lows. We've ranked them all from worst to best.