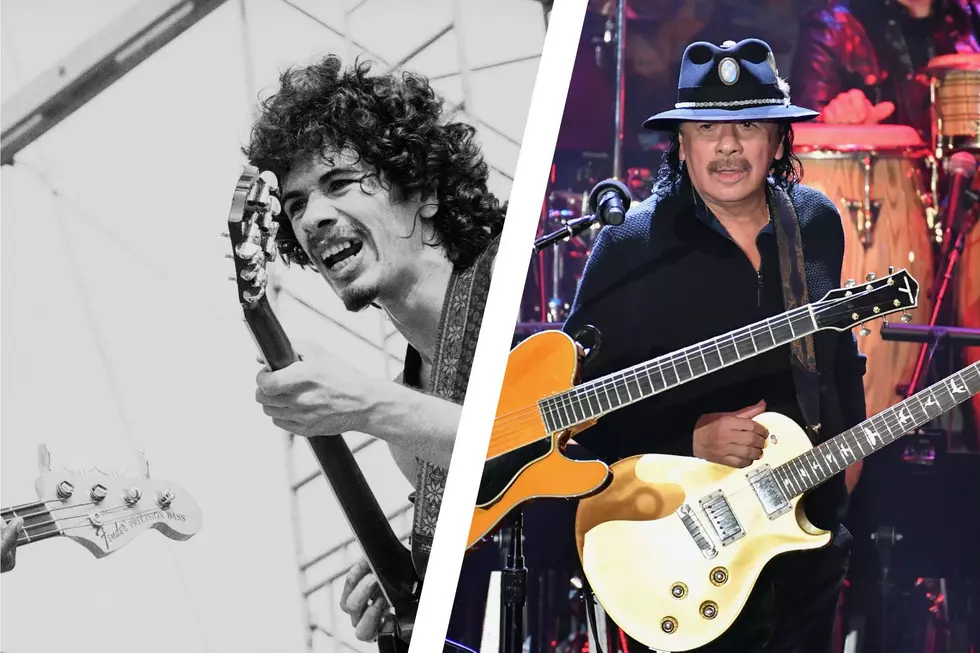 Anniversary Weekend: Santana Celebrates 53 Years Later at Original Site of Woodstock
Getty Images, Tucker Ransom,
Bethel Woods Center for the Arts is a happy place for many people. If you believe in the saying of "good vibes" then you probably are drawn to this very location for numerous reasons.
In August 1969, the Woodstock Music and Art Fair took place.
This is also known as the Woodstock Festival. It was once called Max Yasgur's dairy farm which is now Bethel Woods Center for the Arts.
These peaceful grounds are special. They have an opportunity for visitors and those locals who appreciate the beautiful views, to be a part of a moment in time that will change the world forever.
Bethel Woods Center for the Arts always has something unique happening on site.
Besides their one of a kind concerts in the summer, they also have a museum, Bindy Bazaar trail and many programs throughout the year.
Exciting events such as yoga, art and photography classes take place here. Unique, pop up exhibits such as Lights, Colors, Fashion: Psychedelic Posters and Patterns of 1960s San Francisco was something that I got to experience as well.
The Big Sip, Peace, Love & Lights are other events that Bethel Woods fans cannot get enough of.
There have been legendary performed who have taken the stage at Bethel Woods.
In 1969, Grateful Dead performed at the Woodstock Festival. Recently, Dead & Company played at Bethel Woods in the summer of 2021 and 2022.
In 1969, Santana took the stage and entertained the crowd which is known to have reached a half a million people. On August 16,1969, Santana performed during the festival from 2:00-2:45 pm.
Santana has performed at Bethel Woods since 1969 but made a recent return.
Cars lined up for hours to get into the parking lot so that fans could see one of their favorite musicians perform on the same grounds, 53 years later. None of this mattered since we were all there for the same reason, to experience Santana's performance on the most peaceful grounds in New York.
With this being the Anniversary Weekend at Bethel Woods, having Santana on the same grounds brought nothing but peace and love along with one of a kind music.
Santana returned to Bethel Woods in August 2022 for the Anniversary Weekend.
Santana brought more than just "good vibes" and an incredible performance to Bethel Woods.
Carlos Santana took time to speak to the crowd about miracles, blessings and God. He also discussed his experience of flying on a helicopter during the Woodstock Festival in 1969.
Carlos Santana stated that he saw "an ocean of hair, and teeth and eyes and arms. An ocean of people who were grooving and dancing with unity and harmony. This is why Woodstock will not go away. More than ever, we need the spirit of Woodstock around the world today".
Santana spoke to the hearts of thousands of fans throughout the grounds.
His beautiful words touched not only my heart but the thousands of fans who joined in to feel comfort and love from Carlos Santana. He also stated how he wants "compassion and kindness for every human being."
Carlos then expressed how he feels that we can still create a Heaven on Earth. He said how "there's enough air, electricity, food and water for everyone."
Fans and those who visited Santana's concert left with more than they expected.
As for myself, Carlos Santana has opened my eyes to the things that matter in the present day and what's truly important. It's possible that he may have also changed the 14,000 fans who attended his concert as well.
Have you ever been to Bethel Woods before? Which concert was your favorite? Share with us below and be sure to spread the kindness and love that Carlos Santana would like to see.
High Definition View From Way Above Bethel
Bethel is a beautiful place to stroll around at street level or to view from above like "basspig" did with their drone, from high above the town.
9 Signed Pieces of Country Music Memorabilia from Bethel Woods
There have been so many great country concerts at Bethel Woods throughout the years. Some of your favorite artists have left behind signed memorabilia that you can bid on this month.