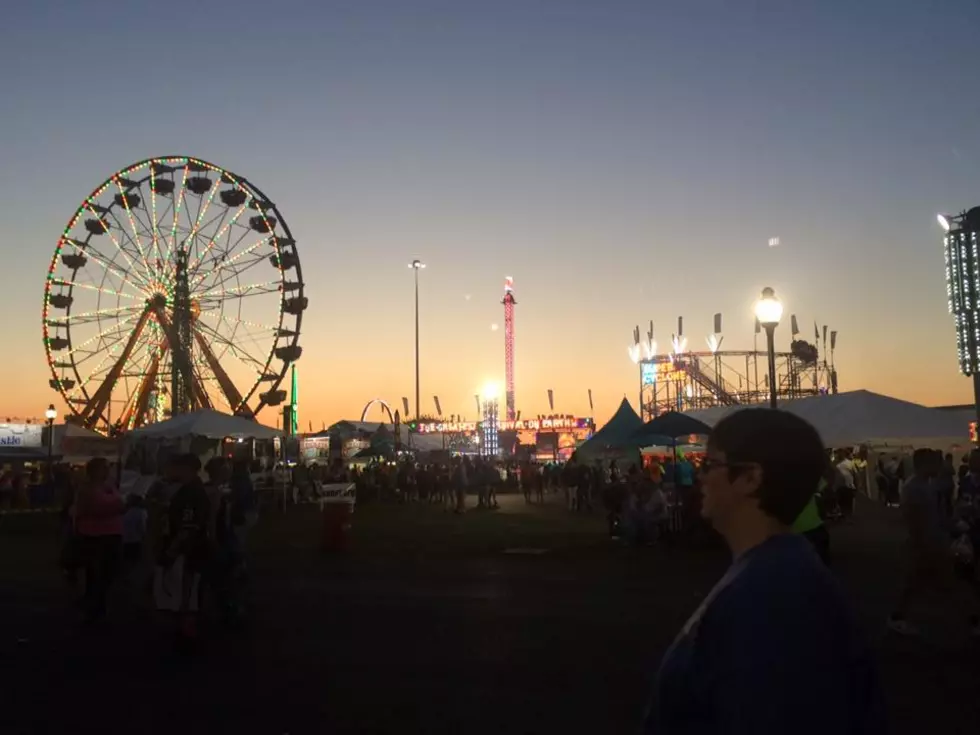 New York State Fair 2023 Unveils Lineup of 20 All-Star Performances
TSM
It's just a little bit more than 100 days away (104 to be exact)! The New York State Fair is always an amazing treat! People from all over New York State come together to experience the affordable, family-friendly, invigorating 13-day festival. The New York State Fair recently unveiled its all-star lineup of 20 amazing performances across the two weeks. Whether you like the Classic Pop or Rock n' Roll, Country or Rap, loud and obnoxious or family friendly, there is something for you! And did I mention these concerts were free with admission? We got the dates and times of who is playing this year below:
While he is best known for "The Twist," the first number one song of all time from the Billboard's Hot 100, he released singles through the 1960s, 1970s, 1980s, and most recently in the early 2000s.
Now celebrating the 40th anniversary of the release of the album, Quiet Riot's August 24 performance is the band's first appearance at the Great New York State Fair. Those who come out for the band's performance can expect to hear Quiet Riot's biggest hits throughout the years, including "Cum On Feel the Noize," "Don't Wanna Let You Go, and "Mama Weer All Crazee Now."
The multiplatinum band, best known for "RX (Medicine)," "Bad Girlfriend," "Not Meant to Be," and other hits, the August 24 appearance will be Theory of a Deadman's third performance at the Great New York State Fair. They played to Chevy Court audiences in 2012 and 2019.
Peppa Pig is the #1 most streamed preschool show for children of any age around the world. Peppa is considered the "crown jewel" of Nick Jr., and she's a pop star too! Peppa released her first musical album, My First Album, in 2019, followed by Peppa's Adventures: The Album in 2021. The 60-minute live musical experience is packed with plenty of singing, dancing, games and surprises.
Nearly 40 years to the day that his legendary father performed at the Grandstand, Julio Iglesias Jr. will charm music fans at the Great New York State Fair. On Under the Covers – just released in February 2023 – Iglesias Jr. reinterprets songs including Marvin Gaye's "What's Going On," George Michaels' "Careless Whisper," Tears for Fears' "Everybody Wants to Rule the World," and Ed Sheeran's "Shape of You," with a classic big band, swing-esque perspective.
Recognized for massive hits including "I Drink Alone," "Gear Jammer," and their biggest anthem, "Bad to the Bone," George Thorogood and the Destroyers are bringing their "Bad All Over The World – 50 Years of Rock" Tour to the Great New York State Fair.
The Prodigals make their return to the New York State Fair. When they're not on the road, The Prodigals play a legendary quarter-century residency at New York City's iconic Paddy Reilly's Music Bar – the only all-draft Guinness Bar in the country. Besides their prodigious residency, they have played venues including Madison Square Garden, Lincoln Center, and the Las Vegas House of Blues
Country music fans will be familiar with Matt's most popular songs, the twice-platinum "Prayed for You" and the platinum "Everywhere But On," which earned Matt consecutive back-to-back #1 hits in 2019.
Herman's Hermits starring Peter Noone will return to Chevy Court to play through their repertoire of hits, including "I'm Henry the VIII I Am," "I'm Into Something Good," and "Mrs. Brown You've Got a Lovely Daughter." Peter Noone and company is scheduled to perform at 1:00 p.m. in what will be their 13th appearance at the Fair!
Widely popular in the Contemporary Christian music world, the next artist announced in Great New York State Fair's Chevrolet Music Series was recently recognized as one of Pandora's Artists to Watch in 2023. Anne is known for blending the heart of Contemporary Christian music and Country music. Those familiar with both genres might recognize "My Jesus," a bluesy gospel ballad that earned GOLD certification as No. 1 on Billboard's Christian Airplay chart in 2021, making Anne the first debut female artist to hold that honor.
REO Speedwagon returns to the New York State Fair on Monday, August 28th. From 1977 to 1989, REO Speedwagon released nine consecutive albums all certified Platinum or higher. The band's landmark Hi Infidelity album, which contained the massive hit singles "Keep On Loving You" and "Take It On the Run," spent 15 weeks in the Number 1 slot in 1980. To date, REO Speedwagon has sold more than 40 million albums!
Known for hits like "MONY MONY," "Crystal Blue Persuasion" and "Crimson and Clover," Tommy James and the Shondells make their way to the New York State Fair Stage. The music of Tommy James and the Shondells have been featured in more than 60 films and 50 television shows, and continue to be covered by artists spanning multiple genres today, including Kelly Clarkson, Billy Joel Armstrong, Carlos Santana, Cher and more.
Hot off the heels of a massive stadium tour with his band Poison, Bret is bringing his big hits and "Parti-Gras" energy back this summer.  His iconic smash hits include "Every Rose Has Its Thorn," "Nothin' But A Good Time," "Talk Dirty to Me," his crowd-favorite cover of "Your Mama Don't Dance" and many more. Branded as a celebration of fans, bands and music, the Parti-Gras tour builds on the vibe of Mardi Gras, promising to deliver an "all killer, no filler" night of hit songs.
Hubbard's solo career builds on tremendous success achieved in the last decade in the music industry. Now, one of the most recognizable voices in the industry, Hubbard first "cruised" onto radio waves in 2012 as the lead-singer of the popular, multi-platinum selling duo, Florida Georgia Line (FGL). Hubbard's debut solo song, "5 Foot 9" is his 20th Number One hit, and right now, "Dancin' In The Country" continues to climb the Country Top 30 and Billboard Top 200 music charts.
Danielle Ponder is already well known throughout Western New York and in the Finger Lakes region. In 2018, she decided to pursue music fulltime. Now, as Danielle steps into the national spotlight with her debut album, "Some of Us Are Brave" (released in September 2022), her unique sound – a mix of pop, R&B, blues, rock and soul – is infiltrating radio stations across the country. NPR has described her music as "anthemic while compassionate; soulful, while bold and strong."
In 17 seasons of AGT, Chapel Hart was only the second group to win the golden buzzer. The country trio dazzled judges and earned millions of fans after performing "You Can Have Him Jolene," which was recognized as "International Song of the Year" in Scotland in 2021.
Known for their three-part harmonies, sisters Danica and Devynn Hart and their cousin, Trea Swindle, have sung together since they were children. Their sophomore album, "The Girls Are Back in Town," delivers a blend of powerful ballads and music to dance to and has been recognized as "Album of the Year" at the British County Music Awards.
Ludacris will reprise his role as Tej in the Fast & Furious franchise's newest film, Fast X, due out May 19. A music star first – selling more than 24 million albums worldwide – he spent a solid 15 years at the top of the charts for hits including "Stand Up," "Get Back," "Money Maker" and "My Chick Bad." This year's performance marks Ludacris's second appearance at the New York State Fair.
If a musical genre had to be assigned to Quinn XCII, his sound might best be described as pop and/or alternative. Influenced by Motown music, Quinn XCII blends pop, hip-hop, and reggae into his musical style. Perhaps best known for his singles, "Straightjacket" and "Flare Guns," Quinn XCII has also experienced platinum success with collaborations including "Kings of Summer" with ayokay, and "Love Me Less" with MAX. Earlier this year, he released his fifth studio album, The People's Champ. Already, singles "Backpack" and "Common" ft. Big Sean are climbing charts.
Disney Junior Live on Tour: Costume Palooza promises an immersive, interactive concert experience. The show follows Mickey, Minnie, and their pals as they get ready to throw a costume party, while mysterious weather interrupts the fun. And, new to the tour this year, adorable superhero kittens from the new action-packed series, "Superkitties," will join the entourage!
The quartet surpassed one million listeners on Spotify last year, with hits including "Irish Pub Song," "The Rocky Road to Dublin," and "Galway Girl" counted among their most-listened-to songs. The High Kings – comprised of Finbarr Clancy, Darren Holden, Paul O'Brien and Brian Dunphy – will close out the performances for the NEw York State Fair 2023.
Look Who Has Played the New York State Fair
Here's a look back at some of the artists that have played the Great New York State Fair.
Concert Archives
New York State Fair Butter Sculptures Through the Years
Take a look at the Butter Sculptures over the years at the New York State Fair.