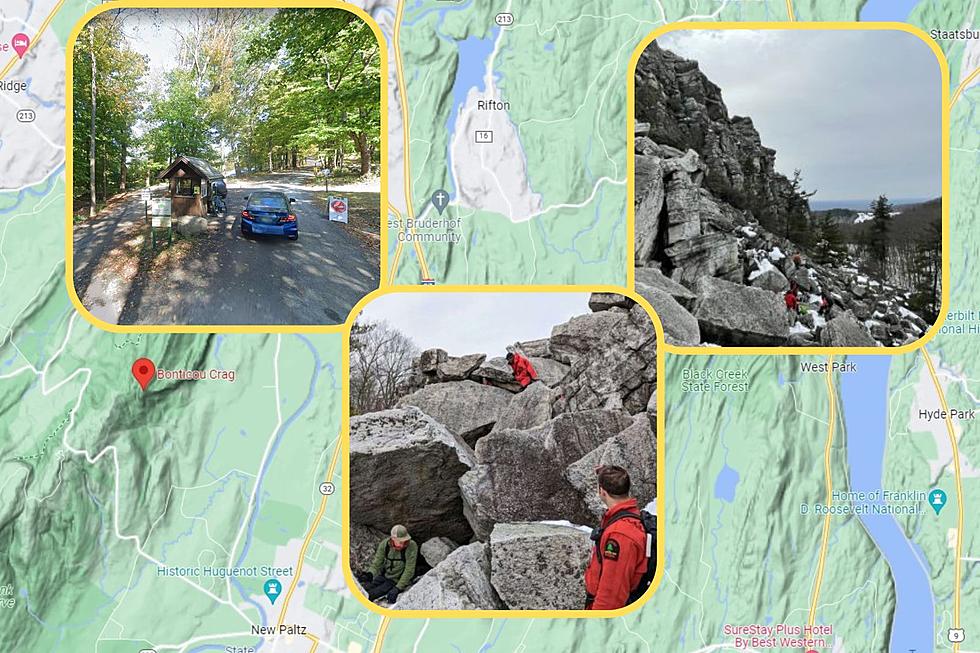 Timeline: Missing NYC Hiker Found Dead in Mohonk Preserve
Google/NYS DEC
An intensive three-day search for a missing hiker from Brooklyn, NY has ended in tragedy. The body of the 45-year-old man was found near the base of a cliff near Bonticou Crag in New Paltz, NY after New York State Police (NYSP), Forest Rangers, and local first responders combined their efforts in the search and recovery efforts.
The search, which began after coworkers noticed the victim's absence Monday morning, only ended after days of extensive efforts. A timeline of events helps clarify the situation.
Saturday, March 11th
On Saturday, March 11th, the Brooklyn man left his apartment and drove north to hike in the Hudson Valley. He last spoke to his daughter, and told her his plans for a solo trek to explore Bonticou Crag in New Paltz, NY.
Monday, March 13th and Tuesday, March 14th
On Monday, March 13th, the victim is absent from work. After a second absence on Tuesday, authorities are contacted. Also on Tuesday, the missing hiker's car is found in the Spring Farm Trailhead parking lot (below).
Friday, March 17th
For the next three days, first responders, forest rangers, and Mohonk Preserve Patrol Rangers all combed the area. On Friday, March 17th, the search ended. From the New York State Department of Environmental Conservation (NYS DEC):
 On March 17 at 10:15 a.m., searchers located the hiker's backpack and cell phone at the base of a 50-foot cliff. At 4:32 p.m., searchers found the subject deceased, approximately 400 feet away from the presumed fall site.
No further details have been released, the NYS DEC continues to remind hikers on the safest ways to enjoy Hudson Valley trails when winter conditions may still be perilous. Learn more about winter hiking safety here.
30 Beautiful Sights, Nature Hikes, and Historical Landmarks in the Hudson Valley
Welcome to some of the best Nature Trails, Historical Landmarks, and all-around great views right here in the Hudson Valley!
The Valley is filled to the brim with amazing places you can go right now, so what are you waiting for?
12 Things to Consider for Your Next Hudson Valley Hike
Do not be like my friends and me, who decided to go on an impromptu hike up Stissing Mountain in Pine Plains with little to no preparation whatsoever. Learn from our mistakes, and consider these things before your next Hudson Valley hike.