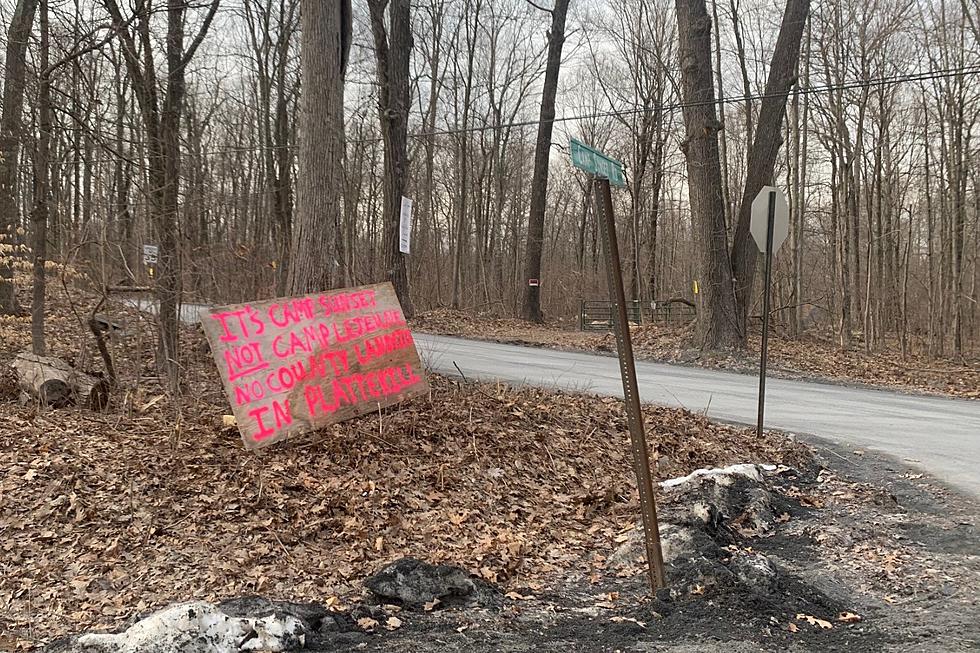 Ulster County, NY Residents Continue to Fight New Landfill
Jonah/TSM
A new landfill may be coming to Ulster County, NY, and residents aren't happy. After a town hall meeting only heightened emotions last month, some have found a more creative outlet for their frustration.
The drama revolves around a recent study that named two locations in Plattekill, NY as the "only viable locations" for the new landfill site. Only adding to the frustration is the fact that the costly study has not been shared with community members. One resident took their opposition to the local streets.
Protests Against New Plattekill, NY Landfill
"It's Camp Sunset, NOT Camp Lejeune. No County Landfill in Plattekill", read a massive sign sprayed with pink paint (above). The sign remained in place for two days until someone else came and replaced it with something completely different.
Sign Battle on Camp Sunset Rd in Plattekill, NY
"Place this sign on your property", read the replacement sign, although there's no evidence that this sign was made by the correct property owner. It does seem to signify, however, that tensions are running high around the possibility of a new Plattekill landfill, as a previous town dumping site is still causing issues over five decades later.
The Hertel Landfill in Plattekill was established in 1963, but according to the Environmental Protection Agency (EPA) reports that it was soon "contaminating soil, groundwater and surface water with hazardous chemicals", and leading nearby residents to rely on private wells for clean drinking water. Cleanup efforts by the EPA are still ongoing, including efforts to "minimize" the spread of toxic materials into local water.
Hudson Valley Cities & Towns Ranked From Least to Most Dangerous
7 Of the Most Unsafe Streets in Newburgh, New York
There are the 7 Most unsafe streets in Newburgh according to Crime Grade.