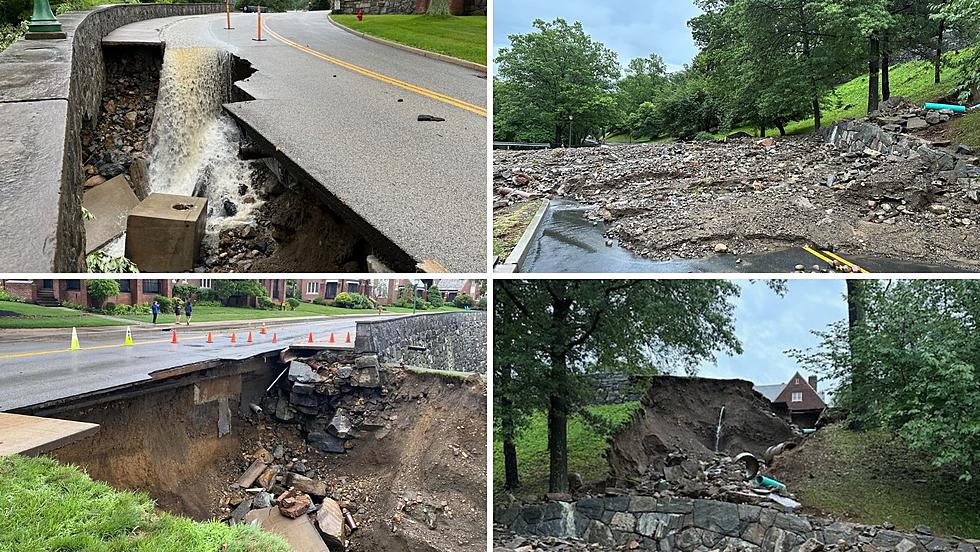 A Closer Look Into The Flood Damage at West Point Military Academy
West Point - The U.S. Military Academy
A Sunday afternoon storm has caused serious damage across the Hudson Valley.
On Sunday, July 9th, 2023 about 10 inches of rain fell in just one evening. According to Meteorologist Ben Noll, that's more rain than the Hudson Valley gets throughout the summer.
As you can see in the Tweet above, the amount of rain and how fast it fell caused utter chaos in parts of Orange County including West Point.
After the rain settled, West Point Military Academy took to social media to share good and bad news. The good news was, everyone including staff and cadets were safe and that on Tuesday, July 11th, West Point would be operating as normal.
The bad news? There is a ton of damage across the campus.
In a statement posted to social media Lt. Gen Steven W. Gilland, the U.S. Military Academy Superintendent, writes:
Our U.S. Army Garrison West Point team is working around the clock to restore capabilities that have been lost or reduced. They will be determining the scope of damage over the next few days. Our Army senior leaders are fully aware of our situation, as are the leaders of U.S. Army Installation Management Command and the Corps of Engineers. Balfour Beatty is steadfastly supporting as they respond to numerous requests for assistance and prioritize their efforts.
Thankfully, they are working quickly to get things back to normal. Lt. Gilland continued:
Leaders from USAA insurance have reached out to understand the scope of damage and are standing by to assist those covered by USAA. They are tracking the flooding of vehicles and personal effects in basements.
It looks as though efforts to rebuild the flood damage began on Tuesday morning, July 11th, 2023.
28 Distinguished Historic Figures Buried at West Point Cemetery
New York State is rich in history. West Point Cemetery acts as a national historic landmark and the final resting place for 28 historic figures. From Medal of Honor recipients and Military leaders to astronauts and other Military heroes, their final resting place can be found right here in the Hudson Valley.
Have You Seen the Military Memorial on this Hudson Valley Hiking Trail?
At the top of the Popolopen Torne trail, in Orange County, you'll be greeted with a breathtaking military memorial.
The Most Impressive Military History Museum Is Less Than 3 Hours From The Capital Museum