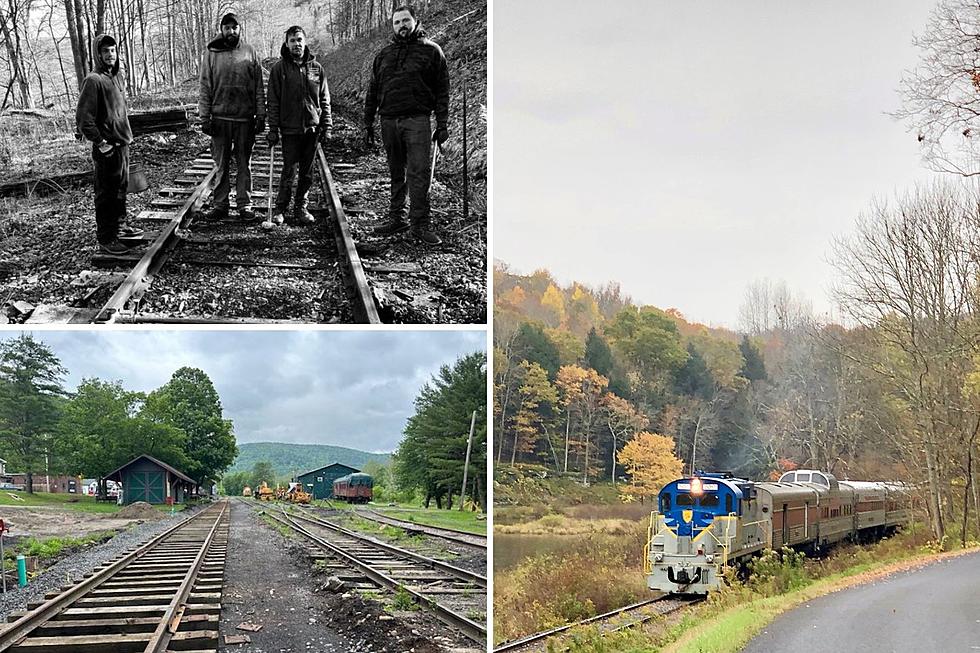 Popular Fall Train Rides Put on Hold in New York
Canva / Delaware & Ulster Railroad
The Fall in New York can be one of the best times to enjoy all the beauty and nature our area offers. Cool temperatures, inviting small towns for shopping and dining plus the amazing colors that the trees deliver. We are fortunate to have such a wonderful environment to enjoy during the Fall season.
Most people who travel to New York in the Fall come for our local farms that offer apple and pumpkin picking amid a back drop of breath taking scenery. The Oak, Maple and other deciduous trees offer a colorful palette to be enjoyed by visitors we endearingly call Leaf Peepers.
Delaware & Ulster Railroad Still Under Renovations for the Fall of 2023
There are many ways to enjoy the sights of Fall in New York but unfortunately it was shared today that one experience will be on hold until 2024. The Delaware & Ulster Railroad (DURR) had hoped to be open for Fall 2023 but word came down today that it won't happen this year.
The DURR was hoping to have their long await track restoration projected finished for the 2023 leaf peeping season but unfortunately they just are there yet. According to a status report they shared today they are about 90 percent done with this massive project that has been underway since 2020.
What Happened to the Train Ride From Delaware County in Arkville, New York
The decision was made to hold off on opening for Fall 2023 so that they can assure all their customers get the best ride after waiting to re-board since the COVID Pandemic stopped the train in it tracks. The 2020 shutdown gave the DURR a chance to work on some track maintenance which has turned into a much needed over haul of the track's spans that goes from Arkville to Halcottsville, New York.
Before the 2020 closure the DURR hosted many seasonal and holiday rides. Everyone from Santa to the Easter Bunny had been on board. All of that excitement will return in 2024.
Now that we are fast approaching autumn, and the workers are continuing to press ahead through the remaining 10% needed to complete the track, it makes sense that we do not divert our focus from the important work at hand. Therefore, we are continuing full steam with construction so we can complete the tracks this season and announce that train rides will resume in 2024. (Delaware & Ulster Railroad via durr.org)

 
While you are waiting for the DURR to be back on the track why not plan a trip on the Catskill Mountain Railroad out of Kingston, New York. The Fall Foliage and the Pumpkin Express are now taking reservations thru October. This trip covers almost five miles of the former New York Central Railroad. You can hop on at the Kingston Plaza, (845) 332-4854.
Take a Look at this New York State Train History
A Fascinating Look at Some Upstate New York Train History!
The topic is trains. Across Upstate New York you will find old train depots, railroad cars that have been transformed for other modern purposes, and historic sites that take us back when railroad was king in the region. Here are t1 interesting footnotes to that history!
Looking for a Good Place to Stop and Eat in the Catskills
16 of Upstate New York's Best Adirondack and Catskill Mountain Diners
There are well over 100 diners spread all over Upstate New York. For those of us who live "close" you just can't beat the diners you will find when traveling Upstate's mountain regions: the Adirondacks and the Catskills.
Here are 16 little diners in these mountains that are worth keeping your eye out for when your stomach rumbles.
(Note: "A" denotes Adirondacks; (C) denotes Catskills)