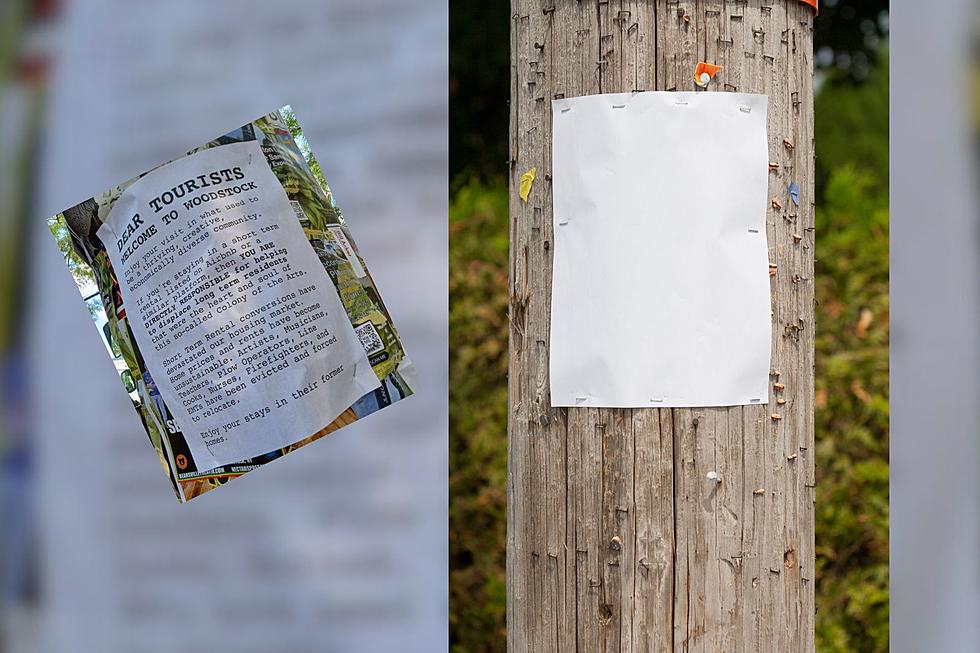 Angry Message Left on Telephone Pole in Woodstock, New York
Maureen Millar/Facebook/Canva
A flyer seen stapled to a telephone pole in Ulster County has a strong message for out-of-towners!
I can't say that I usually pay any attention to the things that are posted on any of the telephone poles where I currently live (Poughkeepsie, NY) but I think I might have to start reading what messages are being posted after what was recently posted on a pole in Woodstock, New York.
Some in Woodstock, NY Blaming Tourists
For many years Woodstock was known as one of the more creative towns in the Hudson Valley, with some calling it a "Colony of the Arts" but in recent years many have blamed tourists for changes within the town. A person or a group of people have taken the "tourist issues" so bad that they have begun posting flyers like the one pictured below to spread their displeasure with the current state of things in Woodstock.
Telephone Pole Message "BLASTS" Tourists in Woodstock, NY
The flyer had some powerful words for anyone that is visiting the Ulster County town of Woodstock saying,
"Dear Tourist Welcome to Woodstock, enjoy your visit in what used to be a thriving, creative, economically diverse community. If you're staying in a short-term rental listed on Airbnb or a similar platform, then YOU ARE DIRECTLY RESPONSIBLE for helping to displace long-term residents that were the heart and soul of this so-called Colony of the Arts."
The message continued explaining why tourists are to blame saying,
"Short term rental conversions have devastated our housing market. Home prices and rents have become unsustainable. Artists, musicians, teachers, plow drivers, line cooks, nurses, firefighters, and EMTs have been evicted and forced to relocate."
The flyer ended with,
"Enjoy your stays in their former homes."
After a picture of the flyer was posted on Facebook a few days ago it was met with hundreds of comments with many agreeing with the message saying, "EXACTLY!!!", "So great" and "Yup. Woodstock is NOT the same place for us creatives as it used to be. Shame…"
Others looked at it from another point of view saying, "You can't blame the renters if the locals didn't sell they wouldn't be their.just a little thought." Another commenter said, "What a lovely greeting for people who come and spend their money in your community." That comment received a few interesting responses including, "Love it Who cares about the tourists feelings when WE CANT AFFORD TO LIVE IN THE CITY WE WERE BORN AND RAISED IN."
Do you feel like Airbnb or short-term rentals are becoming more and more of a problem in the Hudson Valley? Are they the main reason lifelong residents are being forced to move? Let us know how you feel about it by emailing me at CJ@HUDSONVALLEYCOUNTRY.COM. We might use your thoughts in an upcoming article. You can also send thoughts through our station app.
9 Celebrities That Called Woodstock Home
Famous people that once lived in Woodstock, New York
Remembering Woodstock '94 in Pictures
A collection of 35mm photographs taken at the Woodstock '94 concert shows what it was like to be in the crowd and backstage at this historic Hudson Valley event.