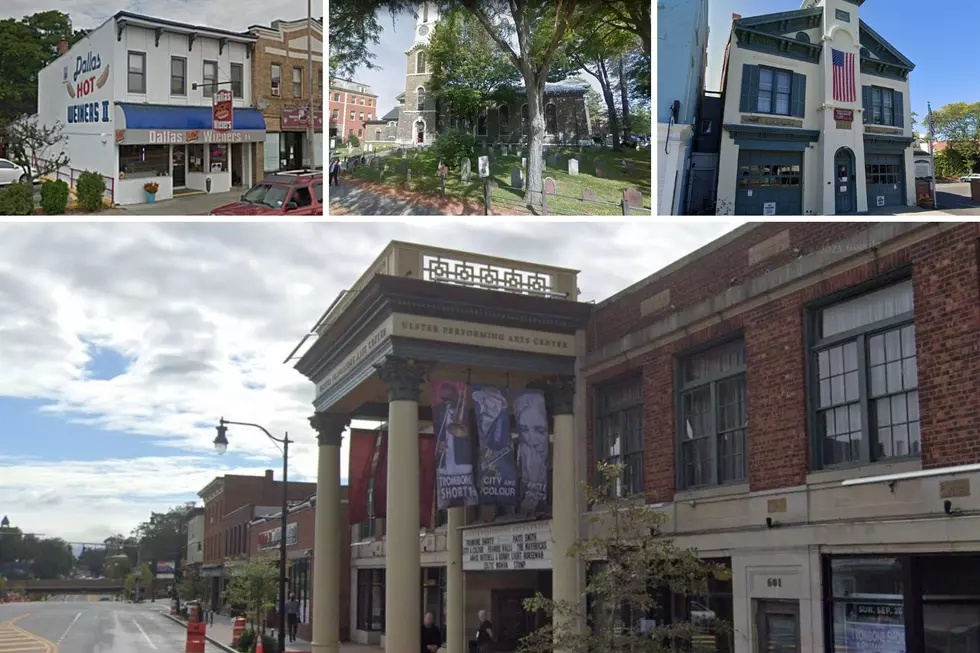 5 Things we Love in Kingston, New York
Google Maps/Canva
If you've never been to Kingston, here are a few things we ❤!!
If you are a fan of exploring and trying out new things and have never been to Kingston, New York we've come up with a list of five things we think you should try or do if you ever find yourself strolling around Ulster County's only city.
Kingston, Ulster County's Only City?
Sometimes you just stumble upon information...LOL! As I worked on the five things we would highlight as we explore Kingston, I noticed that Kingston is the only city in Ulster County. There are a ton of towns and villages but only one city. Kingston was also named the first capital of New York in 1777 and was burned down by the British on October 13, 1777, according to Wikipedia.
Uptown Kingston
Being a city, Kingston has a couple of different areas including midtown and uptown. Uptown Kingston is full of history with many historic places including the Old Dutch Church on Wall Street, the first governor of New York, and the 4th United States Vice President George Clinton is buried in the churchyard.
Uptown is also home to the building where my radio career started. The studios of B-94 were once located on John street and while I was working in the area one of my favorite things to do was walk up and down Wall and John Streets. One place I remember grabbing food at all the time was a smaller grocery store on John Street. I couldn't remember the name but I could remember they had some of the best sandwiches!! Thanks to Holly from Kingston who texted us that "Schneller's was the name of the place CJ was talking about."
Dallas Hot Weiners
Hot dog lovers have two Dallas locations to grab some of the Hudson Valley's best wieners. Dallas Hot Weiners have a store at 490 Broadway and a second location at 51 North Front Street in Kingston. If you go you must try the original Dallas Hot with mustard, opinions, and Dallas sauce!! You'll thank me later...LOL!
Volunteer Firemans Museum
The Volunteer Firemen's Museum located at 265 Fair Street in uptown Kingston opened its doors to the public on April 2, 1982, and 40 years later is still going strong. The museum is an all-volunteer organization that continues to preserve Ulster County firefighter history, artifacts, and documents in the original Wiltwyck Fire Station. Admission to the museum is FREE but there are only open during specific times of the year. Take a look at operating hours here.
Half Moon Cafe
We've shared many times that our love for donuts runs deep!!! Because of that, we've received numerous messages from folks telling us that we need to try the donuts at the Half Moon Cafe. They offer numerous treats and coffees and are located at 36 Broadway in Kingston, NY. If you have tried their donuts before let us know what tryp you had so when we go in the future we have an idea of what to order.
UPAC
Ulster Performing Arts Center, originally the Broadway Theater and Community Theatre is Ulster County's best place to see a variety of shows. The theater itself was closed for many years but reopened in 2002 and is now a registered historic place according to Wikipedia. UPAC has hosted some amazing shows over the years from popular bands and artists to great comedians (Kevin James was just there last weekend). UPAC holds a variety of holiday shows each year as well. Take a look at their upcoming schedule here. UPAC is located at 601 Broadway, Kingston, NY.
Popular Kingston Restaurant For Sale
A look inside landmark Kingston Restaurant that's recently hit the real estate market.
Kingston Stockade District Restaurants
This is by no means a list of every restaurant in the Kingston Stockade District but we had to start somewhere. This is however a great sample of the variety you will find if you visit Uptown Kingston for your next meal.
6 Amazing Places to Eat and Drink on the Rondout in Kingston, NY
The Kingston Rondout is made up of waterfront activities, charming local shops, and amazing places to grab a drink and a meal. Here we put the spotlight on 6 of those eateries which offer delicious fare for any occasion.