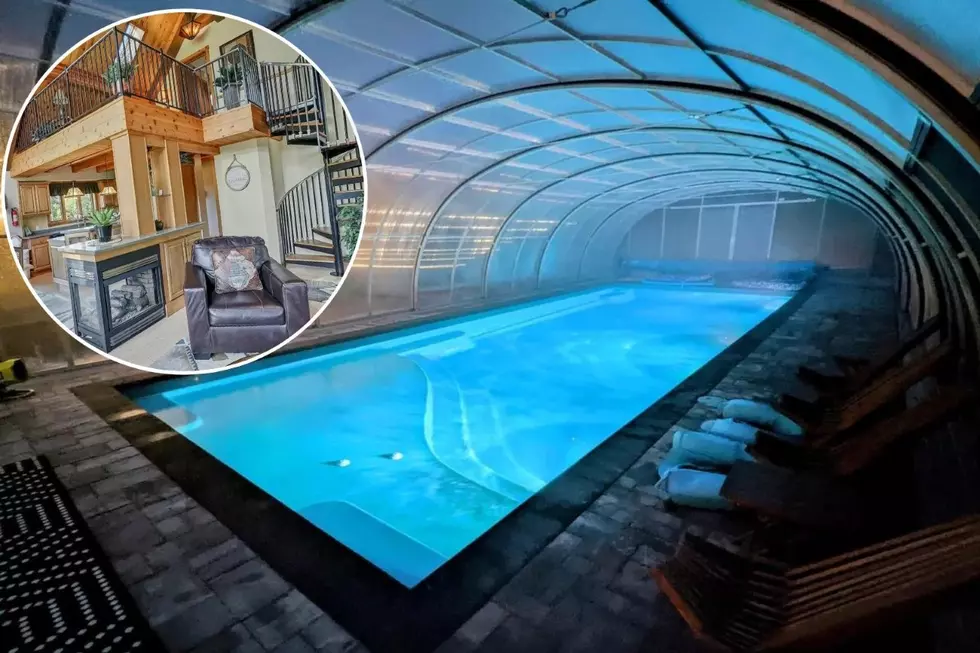 Swim 365 Days a Year At This Upstate NY Paradise
Leah via Airbnb/Canva
With the holidays over, we have a lot of winter time to, well, despise or enjoy, depending on your perspective of this time of year. I prefer to despise it. Not a fan of winter or outdoor winter activities.
But that doesn't mean those who think like me to hibernate all winter in our homes with no fun to be had until we are into the warmer months. At least that's what I'm trying to achieve this year.
And the first thing I looked into, was maybe spending a weekend or maybe an extended weekend relaxing somewhere other than home that's not far from the Binghamton area, which may offer some interesting amenities.
So, I looked at Airbnb and narrow down my search for places under that tab of 'play,' meaning places that may have some gaming options like a pool table, foosball, maybe arcade video games, or even a swimming pool.
Well, a few options came up and one place really caught my interest that had a swimming pool that can be used at any time of the year. It's just a bit east of Deposit and west of Hancock New York off Route 17, called Coyote Ridge Estate. You've probably passed by it many times, as I have when traveling Route 17 east. It's the former Beaver Mountain Log Homes.
Take a look below at this very beautiful Airbnb, with three buildings plus a clubhouse building that's just over a half-hour drive from Binghamton. You probably would want to share it with a bunch of family or friends since there's space for many.
Upstate New York Paradise
Upstate New York Paradise
This Luxury Log Cabin in Binghamton Will Leave Your Jaw on the Floor
Feast your eyes on this luxury log cabin which is nestled away in the woods in Binghamton and boasts not only a pond, but a custom-built batting cage, wraparound porch, and more. This property is located at 3275 Brown Road in Binghamton and is listed for sale by Michael Derosa Exchange, LLC.
New York Counties With The Highest Property Taxes
The homeowners in which New York counties pay the most in property taxes? See the answer to that as well as how our Southern Tier counties stack up (info pulled from
Tax-Rates.org
).