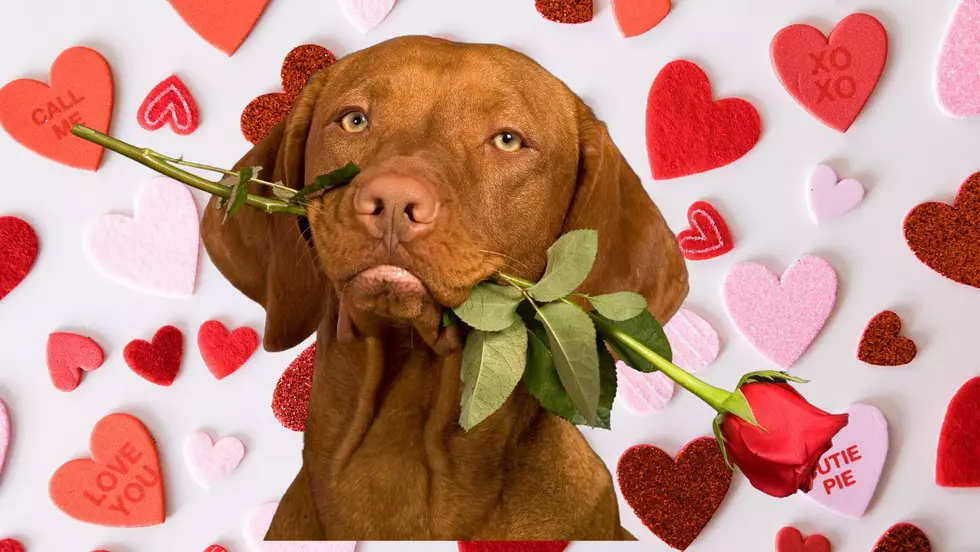 Send a Puppygram to Your Sweetheart this Valentines Day with Ulster County SPCA Pups
Canva
And they call it...puppy love.
Looking to send the love of your life the most adorable Valentine ever? Why not send them a Puppygram from The Ulster County SPCA?
What's a Puppygram? I Want One!
What's a Puppygram you ask? The Ulster County SPCA will send an adorable shelter pup to make your Valentine's Day delivery. According to the website, they will send puppies, ages 8 weeks to 2 years old, that are available for adoption "bearing chocolates, a signed card, and a small stuffed toy" and of course puppy kisses!
Ulster County SPCA Puppygrams are available for those in the Kingston, Saugerties, Woodstock, High Falls and Rhinebeck areas and deliveries will be made on Valentine's Day. Each visit will be limited to 15 minutes and will run you $60.
Think about it, a cute puppy bringing your significant other a Valentine's Day message. It doesn't get more romantic than that! And who knows, maybe you'll fall in love with your Puppygram pup and add a new member to your family.
If you are interested in adopting, fill out an application on The Ulster County SPCA website.
Valentine's Day Pet Photo's at Ulster County SPCA
Now maybe you already have a dog and want to take adorable Valentine's Day photos of your pooch. You're in luck! The Ulster County SPCA is also offering Valentine's Day pet photos on February 5th. From 11 am until 3 pm, you can bring your furbaby in to take professional Valentine's Day photos.
A $5 donation will go directly to "the care of the abused, neglected and homeless animals at the Ulster County SPCA" according to the event's website.
Woof, Woof! Check Out the Most Popular Dog Names in New York
Trying to settle on a name for your new pup? You might be able to draw some inspiration from these names which, according to
Wag Walking
, are the most popular dog names in New York
5 Great Places to Adopt a Dog in the Hudson Valley
5 of the Hudson Valley's Best Animal Shelters
10 of The Top Rated Dog Parks Across the Hudson Valley
Looking for a change of scenery with your pup? Check one of these top-rated dog parks located right here in the Hudson Valley according to Google Reviews.