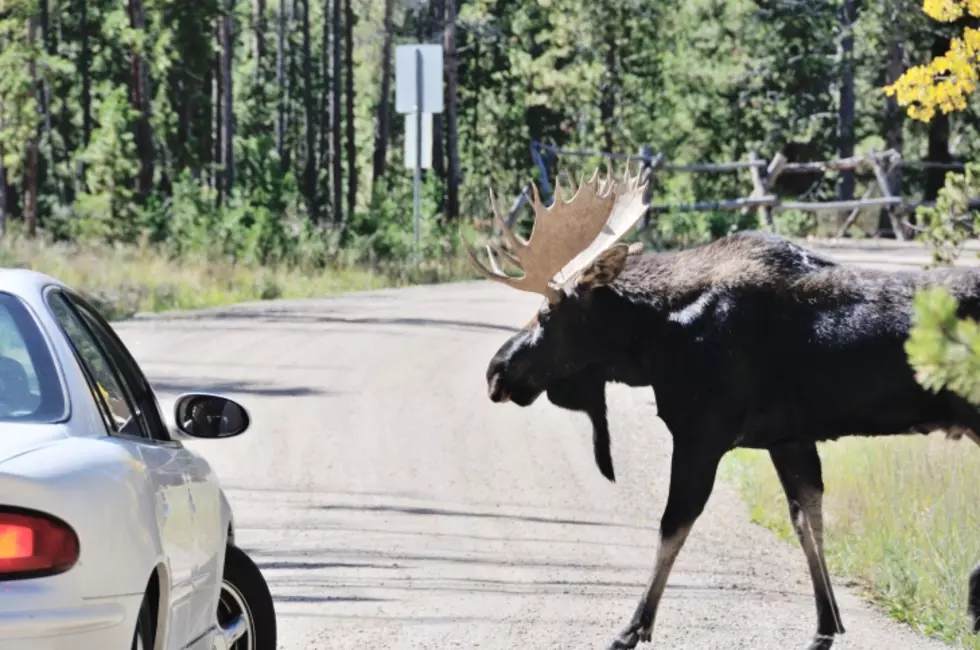 Police: Passengers Injured After Car Strikes Moose in Goshen
Getty Stock / ThinkStock
Have you ever seen a Moose near a roadway in real life? It's terrifying. They tower over your vehicle. It happened to me for the first time ever last year while Mrs. Large and I were up in New Hampshire. At first I thought it was a truck on the side of the road, but it moved as we were getting closer. The first thought in my head was, if anyone slams into that thing with a vehicle, they're dead.
Unfortunately, someone hit a Moose with their vehicle in Goshen late Saturday night. The good news is, all of the passengers and the driver survived, the Moose? Unfortunately, the moose didn't make it.
According to the Connecticut State Police, at 9:39 PM Saturday night, May 1, 2021, Allyson Burton of Farnham Ave in Torrington was traveling Northbound on Route 272 in Goshen near the intersection of Route 263 in her 2011 Subaru Legacy, when she struck a Moose that had appeared in the roadway.
Burton had four passengers with her in her vehicle, including a young child. Burton, one of the passengers, and the child all reported possible injuries and were transported to Charlotte Hungerford Hospital by Goshen EMS. The two other passengers in the vehicle reported no injuries and the vehicle was towed away from the scene.
Moose may stand over 6 feet tall at the shoulders and can weigh up to 1,400 pounds. Burton and her passengers are very lucky to escape with minor injuries, it could have been much worse.
See the Must-Drive Roads in Every State
LOOK: Stunning animal photos from around the world
From grazing Tibetan antelope to migrating monarch butterflies, these 50 photos of wildlife around the world capture the staggering grace of the animal kingdom. The forthcoming gallery runs sequentially from air to land to water, and focuses on birds, land mammals, aquatic life, and insects as they work in pairs or groups, or sometimes all on their own.