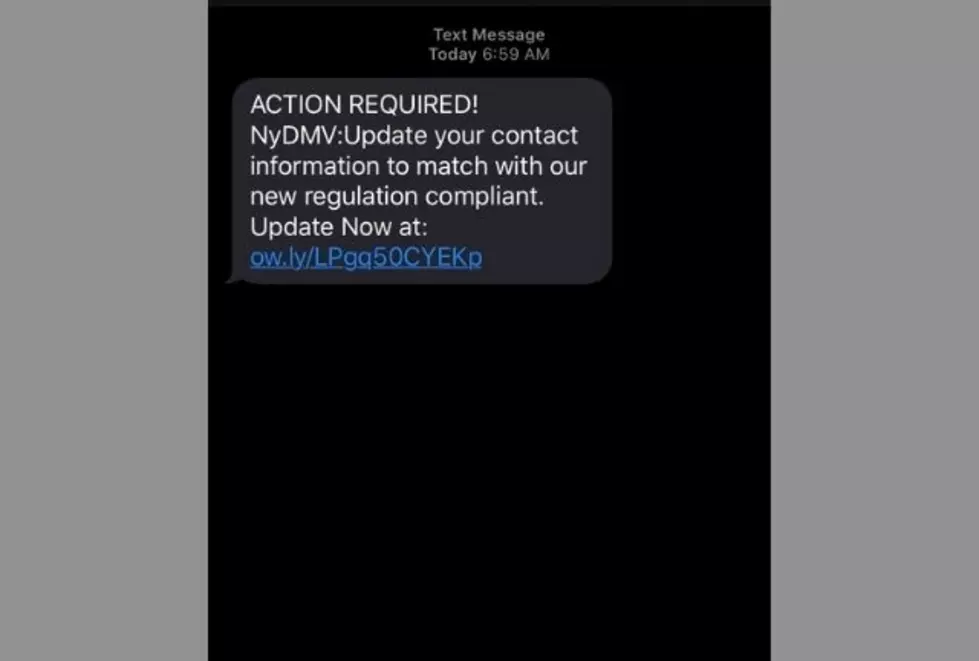 NY DMV Warns Of Texting Scam
Credit: New York State Department of Motor Vehicles Facebook Page
The New York Department of Motor Vehicles has alerted New Yorkers about a text scam asking for personal info.
If you get an unsolicited text from a number claiming to be the NyDMV, do not respond! The Department of Motor Vehicles posted a photo of the scam text below that folks have been getting, asking for personal information:
The NY DMV said in the post "This text message did not come from DMV. If you get a suspicious text asking for personal information, DO NOT RESPOND. That text is phony and you should delete it right away." You will see several commenters on the post who received this same text!
This is pretty much a rule of thumb to ignore any type of communication like this asking for any type of personal information. No company would randomly call, email, or text you to update your sensitive information. Another great way to play it safe is if you question the validity of something like this, call your service provider directly to answer any questions
It is a shame, especially with so many dealing with the challenges of the pandemic, that there are so many leeches out there looking to take advantage of others. The sad thing is they will probably catch someone off guard with ths scam and take advantage of them. If only we could have left scammers behind like we did 2020 over the New Year's holiday!
Enter your number to get our free mobile app
Lake Placid's Lady in the Lake