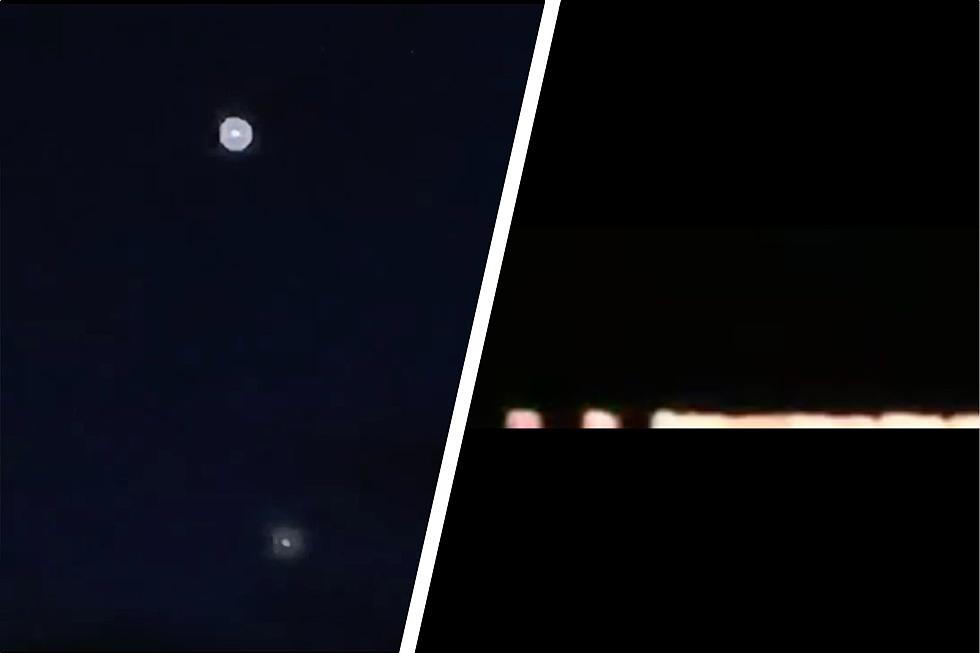 WATCH: Mysterious Streaks of Light and Orbs Spotted Over Marlboro, NY
Facebook, Clifford Wood
For as long as humanity has been around, it seems as though we have always been looking to the night sky, wondering what is beyond our atmosphere. Though we have been able to send space crafts up into space over the last 60 years, there is still so much that we haven't even come close to understanding. So, it's always fascinating when you get something out of the blue.
Floating Orbs and Streaks of Light Spotted Over Marlboro, New York
Last Sunday, March 5th, Marlboro resident Clifford Wood was out walking his dog when he noticed two large orbs in the western sky. He took out his phone to video the incident. The video is 3:32 long. In the first 20 seconds or so, it is hard to make much of anything out. Around the 25 second mark, a streak of light flashes across the bottom of the screen. Though it is low in the video, it was still in the night's sky.
After the streak, the two orbs come into focus much clearer. They are quite bright, and they look as if they may be fading in and out. The top orb in particular seems brighter and more prominent than the bottom one, though there does seem to be a connection between the two. Based on the video, there doesn't seem to be enough cloud cover to explain why they sometimes go in and out.
Around 1:25, a streak of light once again shoots across the sky in the exact same place as before. None of the lights are giving off any noise that can heard on the video.
Around the 2 minute mark, Clifford zooms in and you can see the two orbs a little clearer. Neither orb seem to move, but their light is inconsistent. The video lingers on the orbs for about another minute before both of them disappear.
What Could These Mysterious Lights Be?
With the news lately, I wouldn't be surprised if people thought any of these lights could've been from Chinese spy balloons; however, I doubt that is the case. The thing that gets me is the random light that flashed a couple times in the bottom left corner of the video. Was the streak of light at all connected with the orbs? At first, I was wondering if it could be Starlink, but I doubt that it is because Starlink looks like an entire tail of lights moving across the sky together in a slow succession.
As for the two orbs flickering in and out, was there more cloud cover interfering with our vision or were they doing that on their own? Were they more than just stars or neighboring planets? Could they have been air/space crafts of some kind? Were they from this world, or from some place else? This video keeps you guessing every time you watch it. If you have any information as to what these lights are, we would love to hear from you. Otherwise, we have Clifford Wood's video right here:
LOOK: The states with the most UFO sightings
For each state, we've also included details of famous UFO sightings in that state. Of note is that almost three-quarters of all UFO sighting reports in the United States
occur between 4 p.m. and midnight
, and tend to peak between 9 and 10 p.m. Food for thought next time you're out scoping for alien life. Keep reading to see which states have had the most UFO sightings.
UFO Pics Released By the U.S. Government
Most common words used to describe UFOs from reported sightings
UFOs (unidentified flying objects) have been reported throughout history and people have used similar words to describe them throughout.
Stacker
culled the National UFO Reporting Center's top list of UFO descriptors and famous examples of each UFO in history.