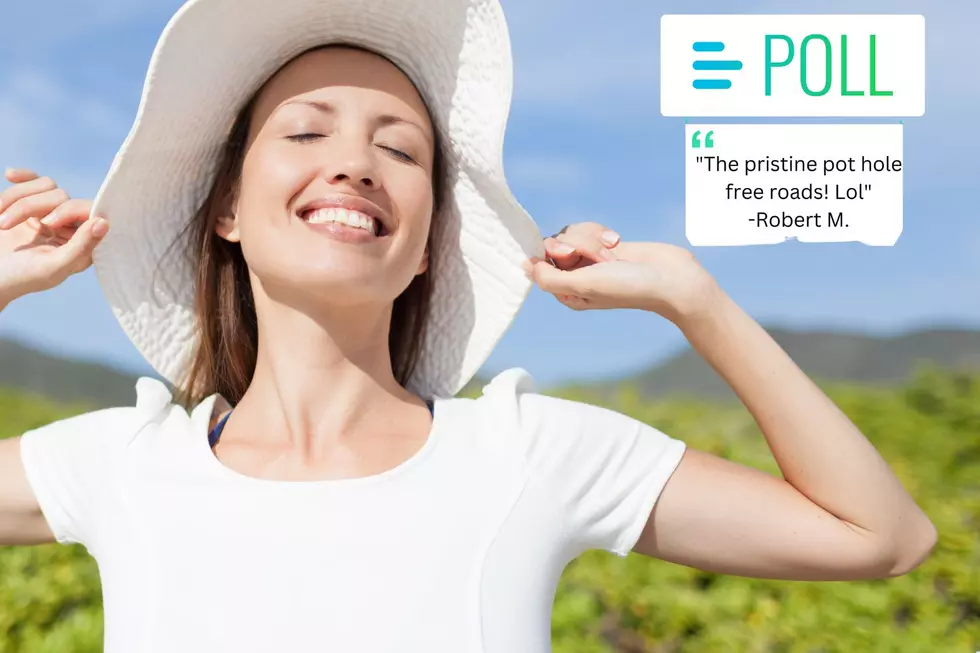 Wrong Answers Only: Why You Should Move To The Hudson Valley
Canva, WRRV's Facebook page
Do you love where you live?
Hudson Valley residents got personal on social media about how they feel.
The Hudson Valley Can Be Considered An Oasis Or Nightmare To Some
I haven't met too many people who thought that living in the Hudson Valley was unfit for them. For the most part, it seems that those who live here are happy and enjoy being here.
Hudson Valley natives can all agree that there's no place like home. From historic sites and mansions to views of the Hudson River and local streams, it's truly magical.
The Hudson Valley Is Home To Nature Lovers, City Commuters, History Buffs, And More
There are picture-perfect scenes of farms with green rolling hills with cows and red barns all throughout New York state. Each county has a cute, quaint town or village filled with charm and character. 
Each Season Has Its Own Beauty In The Hudson Valley
During the spring and summer, residents can take in the greenery, blossomed flowers, nature trails and local swimming holes.
During fall, residents and out-of-town visitors are on the hunt for the best fall foliage, local apple orchards and pumpkin picking.
The winter serves as a time to slow down, appreciate the beauty of snow glistening on the trees and pick up a hobby such as skiing or snowboarding in and around the Hudson Valley.
Summer is my favorite month in the Hudson Valley, there is so much that is offered during that time.
Major, Historical Events Have Taken Place In The Hudson Valley
There have been major, historical events that have taken place right here, in the Hudson Valley. There are towns that date back to the early 1600s. Beyond that, Ulster County, NY is home to the oldest intersection in America. It was built pre-revolutionary war and still has historical markers showing its significance.
There's also the option to ride a 150-year-old railroad all year long in the Hudson Valley. We have a bridge here was once known as "The Longest Suspension Bridge In The World". You may have been over this bridge several times.
A popular and windy road in the Hudson Valley is ranked "One Of The Most Beautiful" in New York.
Influential And Historical Figures Played Major Roles In The Hudson Valley
Franklin Delano Roosevelt, also referred to as FDR, was the 32nd president of the United States. FDR was known for being elected into office four times and leading the US through the Great Depression and World War II.
Growing up, FDR lived in the Hudson Valley with his parents. He attended school in Massachusetts and ultimately, Harvard University. FDR met Eleanor Roosevelt while in college, and even though they were distant cousins, they still got married.
Guests can visit the home of FDR and Eleanor Roosevelt in Hyde Park, NY.
Sojourner Truth will live on in the Hudson Valley. She was known as a former slave who became an advocate of civil rights, women's rights and more. Some may not know that she spent time in our area. Born in Ulster County, she played roles in Rifton, New Paltz, Kingston, NY and more.
But beyond all of that, residents took to social media to answer one simple question: Why should you move to the Hudson Valley? Wrong answers only...
Wrong Answers Only: Why You Should Move To The Hudson Valley
The Hudson Valley can be considered an oasis or nightmare residents. A recent poll was taken on WRRV's Facebook page in regards to why people should move to the Hudson Valley. They were asked to answer this with wrong answers only.
Why do you think people should move to the Hudson Valley? Share your wrong answers only with us below.
6 Ways To Help Your Hudson Valley Neighbors
Looking for a way to make a difference here in the Hudson Valley? You don't have to spend money, maybe just a few hours per week of your time. Here are a few ways:
Pride in July: Barton Orchards Event Lights up the Hudson Valley
Pride in July took place at the beautiful, Barton Orchards in Poughquag on Saturday, July 23, 2022.