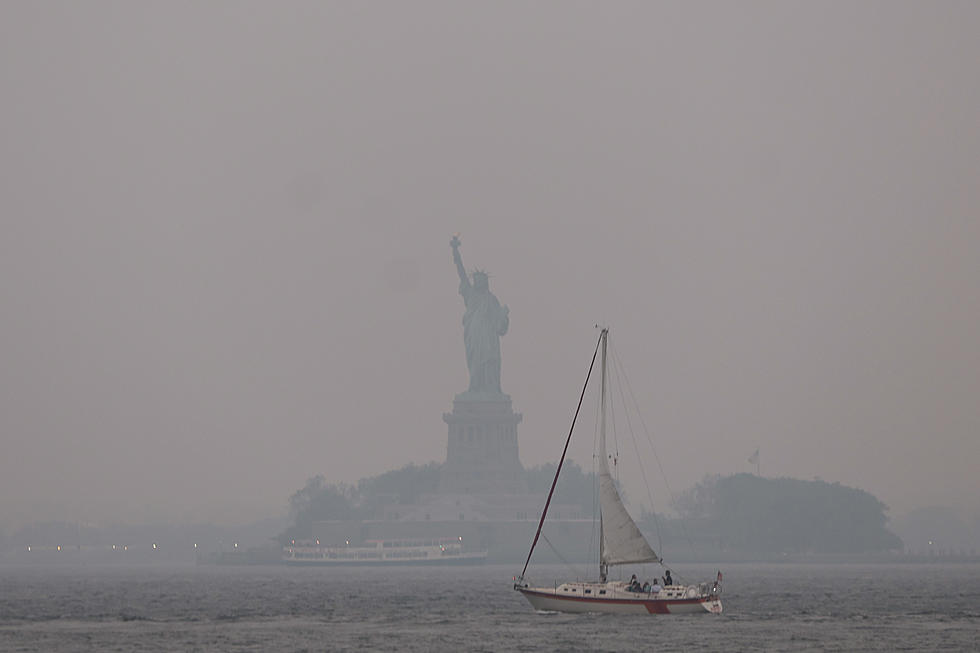 Major Update On Wildfires Impacting New York State's Air Quality
Getty Images
Top New York officials are continuing to warn Empire State residents regarding the air quality caused by the ongoing wildfires in Canada.
Gov. Kathy Hochul and the New York State DEC is updating New Yorkers regarding the poor air quality in New York from the ongoing Canadian wildfires.
Governor Hochul Updates New Yorkers On Canadian Wildfires Impacting State's Air Quality
Smoke from wildfires in Canada has made its way to New York, including in the Hudson Valley, New York City, Adirondacks, Eastern Lake Ontario, and Central New York regions
Police across the Hudson Valley received many reports on Tuesday about an odor of burning and smoke in the air.
For all the news that the Hudson Valley is sharing make sure to follow Hudson Valley Post on Facebook, download the Hudson Valley Post Mobile App and sign up for the Hudson Valley Post Newsletter.
Air quality tracker, IQAir, reported New York City had the worst air quality in the world among major cities.
Air Quality Health Advisory Long Island, New York City Metro, Lower Hudson Valley, Upper Hudson Valley, Adirondacks, Eastern Lake Ontario, and Central New York regions.
An Air Quality Health Advisory remains in effect on Wednesday for Long Island, New York City Metro, Lower Hudson Valley, Upper Hudson Valley, Adirondacks, Eastern Lake Ontario, and Central New York regions.
More than 100 wildfires currently burning in Quebec are causing hazy conditions across much of New York State.
"When these historic wildfires started in Canada, DEC meteorologists were closely monitoring weather patterns and other data to help inform air quality forecasts," DEC Commissioner Basil Seggos said.
New York residents, especially those who are sensitive to air quality, are told to limit outdoor exposure.
"When many New Yorkers walked outside, the hazy skies caused by wildfire smoke were hard to miss," Hochul said. "New York State experts are monitoring our air quality every day to ensure New Yorkers have the latest information about current air quality in their communities and what they can do to protect themselves. I encourage New Yorkers, especially those sensitive to air quality, to take appropriate steps to help limit risk of exposure."
Exposure to fine particulate matter can cause short-term health effects, such as irritation to the eyes, nose, and throat, coughing, sneezing, runny nose, and shortness of breath, officials say.
"The New York State Department of Health recommends that New Yorkers limit strenuous outdoor activity to reduce the risk of adverse health effects. People who are especially sensitive to the effects of elevated levels of pollutants, including the very young and those with pre-existing respiratory problems such as heart disease or asthma, should avoid spending time outdoors, if possible," Acting State Health Commissioner Dr. James McDonald said.
Over 400 fires were burning in Canada as of Tuesday night, including over 200 considered "out of control."
10 Tips To Prevent Wildfires
Smokey The Bear said it best, "only you can prevent wildfires." Well, it's a lot easier said than done, Smokey. Great name for a bear trying to warn us about fire hazards, by the way.
In order to prevent wildfires, you have to first know how they can be prevented. Here are 10 tips provided by the Department Of Interior that will help you in your every day life, so you can enjoy being outside, camping, and having bonfires without it turning into a problem.
Here are their 10 tips, along with some simplified explanations from me.
Top 10 Most Stolen Vehicles In New York State
Vehicles from 2016 and earlier were the most stolen vehicles in New York State.
Chick-Fil-A Opens Surprise Free Pop-Up In Mid-Hudson Valley
Where The Hudson Valley Is Gaining, Losing Residents
Most of the Hudson Valley is gaining new residents. How many residents has your county gained or lost?