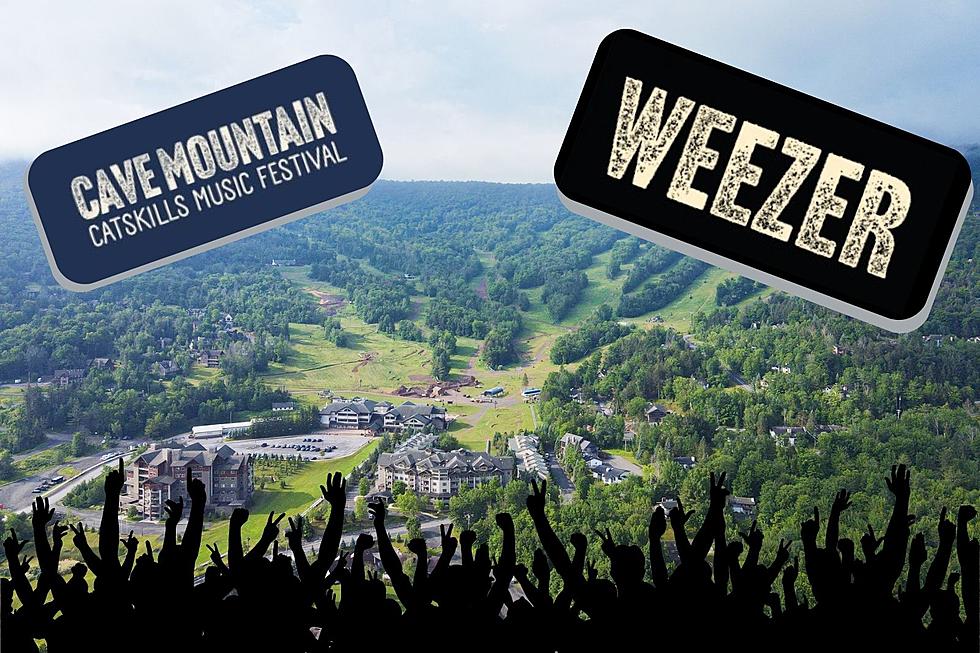 Weezer Coming to the Hudson Valley for Massive New Music Festival
cavemountainmusicfest.com
A new music festival is coming to the Hudson Valley this summer with an amazing lineup of artists... here's everything you need to know about the Cave Mountain Catskills Music Festival.
Food, beverage, and craft vendors will all join the impressive lineup for the two-day festival on Windham Mountain in Windham, NY on September 15th and September 16th 2023. With the snow gone, Windham Mountain will be the perfect backdrop for back-to-back days of music. Check out the lineup below.
Cave Mountain Catskills Music Festival in Windham, NY
Friday, September 15th will feature headliner  Joe Rousso's Almost Dead, with supporting acts Preservation Hall Jazz Band, Lee Fields, Courtney Marie Andrews, Charlotte Rose Benjamin, Matt Sucich, and Thunderstorm Artis. Single-day tickets are available, but you'll want to stick around for day two...
Weezer Headlining Day 2 of the Cave Mountain Catskills Music Festival
Saturday, September 16th will feature headliner and alternative legends Weezer, supported by Dinosaur Jr, Albert Hammond, Jr, Sheer Mag, Channing Wilson, Elijah Wolf, and The Bones of J.R. Jones. Single day tickets begin at $125 plus fees, and weekend passes begin at $230 plus fees. VIP packages are also available. Tickets go on sale Friday, March 10th. 
What is the Cave Mountain Catskills Music Festival?
The Cave Mountain Catskills Music Festival will be family-friendly, and children under the age of seven are free (limit two under-seven children per family). The epic new festival will also have epic views. Set on beautiful Windham Mountain, the sights will be just as exciting as the sounds.
With the popularity (and number) of music festivals continuing to rise, it's refreshing to have such a promising and star-studded event coming to the Hudson Valley. Forget a road trip, the  Cave Mountain Catskills Music Festival is just a short drive from whichever New York county you call home. More info can be found at cavemountainmusicfest.com. While you're in the Catskills, why not extend your stay? Check out some of the best wineries and breweries below.
Top 25 Breweries and Wineries in the Catskills
New York State, and especially the Catskill Mountains are home to some of the finest and award-winning locally crafted brews and wines. For tourists venturing upstate to hike or locals looking for a place to hang out, these are some of the top breweries and wineries in the Catskills to check out and support.
You Could Own an Abandoned College in the Catskills from the 1700s
Further your education by buying an actual college in the Catskills.