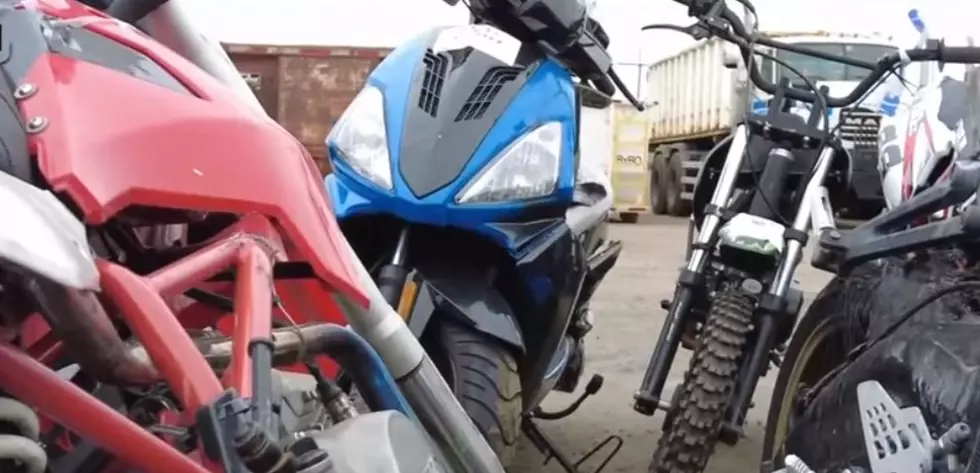 250 Illegal Dirt Bikes and ATVs Seized in New York State! Is Yours Next?
YouTube.com- CBS New York
Have you seen large groups of people riding dirt bikes and ATV's around the Capital Region? There have been more than a few reports of erratic driving along Washington Avenue Extension near Walmart. Are they riding legal? Are they a danger to pedestrians and other vehicles on the road? Many say yes!
What can be done about the ones riding illegally?
In April of 2021 the City of Albany passed a law that would increase fines and penalties for anyone caught illegally riding a dirt bike or ATV. According to Local Law E, anyone who is driving the vehicles illegally will face up to $3,000 in fines as well as up to two weeks in jail.
Over the weekend the New York City Police Department took a big step forward in confiscating illegal dirt bikes and ATVs with a haul of more than 250 illegal bikes. Check out this video posted by NYC Police Chief Jeffrey Maddrey.
"Good work" - Moe P.
"What about the city's violent crime?" - Keisean
"Thank you Chief Maddrey" - Sam E. A.
"the bikes do create a mad max atmosphere, but so does open air drug use and defecation — is the da going to start enforcing other laws?" - Michael K.
What happens once they are impounded? Watch this video.
15 New York Towns Among Safest in America
16 Of New York State's Most Wanted Criminals- February 2023
Below are individuals wanted by the New York State Department of Corrections and Community Supervision's (DOCCS) Office of Special Investigations who have been designated as its
Most Wanted Fugitives
. They should be considered armed and dangerous. This list is current as of 1/31/2023:
NEVER attempt to apprehend a fugitive yourself. If you have information on the location of any of these fugitives, you can contact OSI 24 hours a day / 7 days a week to report it. All leads and tips are treated as confidential information.
If an immediate response is necessary, such as you see the wanted person at a location, please call "911" and report it to the police.
25 'Safest' Hometowns in New York State