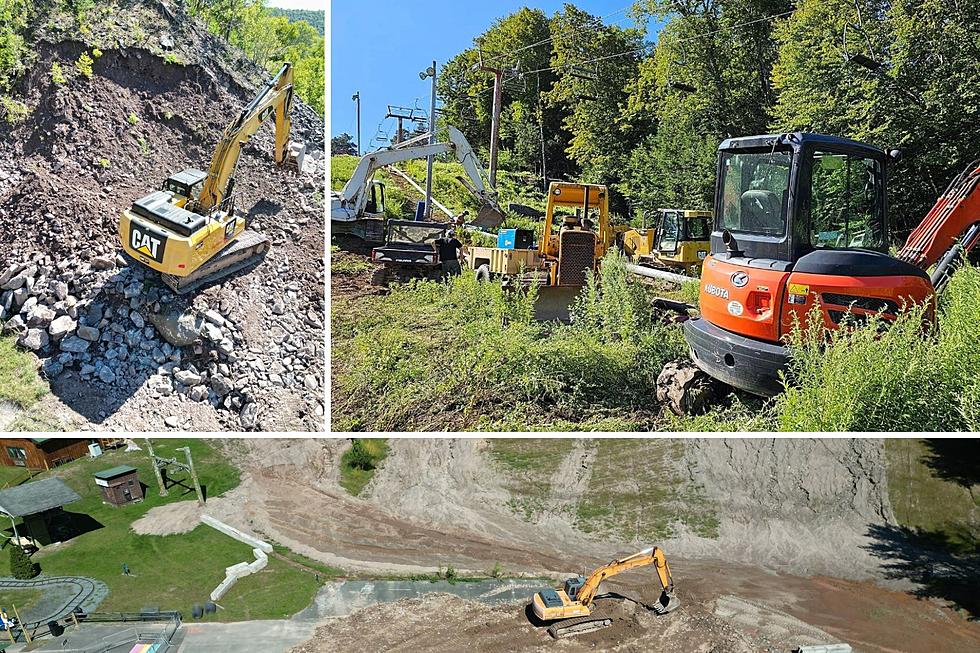 More Progress at a Ski Slope Being Rebuilt in Sullivan County, New York
Canva / Holiday Mountain Ski & Fun Park via Facebook
Many of us who grew up in the Hudson Valley remember Holiday Mountain Ski Area. It was a popular place to head to for a close run on the slopes. Over the years it had become run down but all of that seems to be in the past.
Back in July, I told you how they were cleaning up the grounds at the new Holiday Mountain Ski & Fun Park. The new owners of the property were cleaning up everything from vintage beer cans to tractor Trailer truck trailers left on the mountain.
Ski Slope is Coming Back To Life For Winter Ski Season in Sullivan County, NY
SEE Also: Cleaning Up Old Items at Holiday Mountain Ski Area in Sullivan County, NY
On Thursday, September 14, 2023, they have shared more of their progress on the mountains as they prepare for the 2023/2024 ski season in New York. Bulldozers and trucks are on the steep terrain now so that this winter the slopes will be ready for skiing enthusiasts of all skill levels.
The Holiday Mountain Ski & Fun Park is getting a new website and some new trails. If you follow them on social media you will get a peek at some of the vintage photos they are digging up to create some nostalgia around the new project. They are also sharing pictures of the new technology they are installing to ensure a great ski season in the Catskills.
Watch This Video from the Renovation of Holiday Mountain in Sullivan County, NY
Award Winning Place to Spend a Weekend in Sullivan County
The Chatwal Lodge in Sullivan County
Large Waterfront Retreat in Sullivan County
Built in 2004 this
Sullivan County home in Monticello, New York
is the perfect retreat for a family or even as a corporate getaway. With 5 bedrooms, and 7 baths it has room for many plus it sits on 5 plus acres of inviting waterfront land. Peek inside and see what it would be like to live in this lakefront retreat just minutes from Resorts World Catskill and Bethel Woods Center for the Arts.